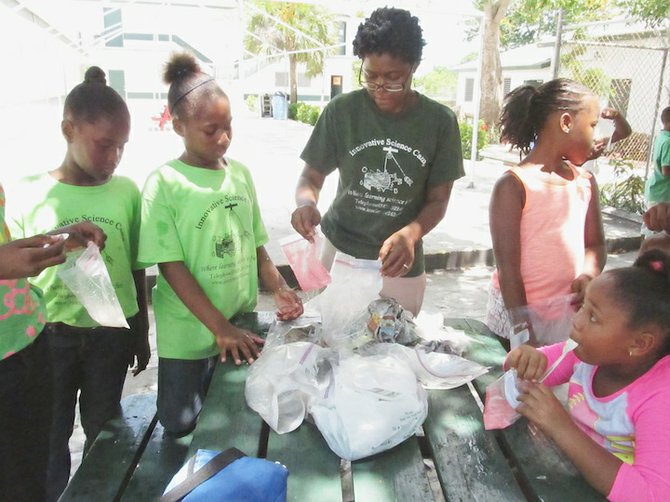 BUDDING young scientists have been conducting experiments and learning about recycling at this summer's fourth annual Innovative Science Summer Camp, sponsored by RBC Royal Bank.
Participants tested their hypothesis to a scientific question that they have always wanted to know the answer to, how and what to recycle in the Bahamas, grew crystals and made designer candles, ice cream and goo.
RBC's sponsorship included financial assistance in the form of a scholarship as well as a contribution towards the camp's general expenses. Valecia Richardson, a fifth-grade student at Uriah McPhee Primary School, was selected for the scholarship recipient as a result of her excellent school record including regular attendance, academic record and positive spirit.
Sheena Davis, the president of Innovative Science, said: "RBC's scholarship provided an opportunity for a child to grow and develop through science. Our summer camp and after-school programme students have primarily come from the private school system but this year, through the support of our scholarship donors, including RBC, we were able to host three students from the public school system."
Mrs Davis emphasised the importance of science education in the development of children. "Everything we do on a daily basis involves science, from breathing to growing our food," she said. "Science education fuels the natural curiosity that children have and provides them not only with a potential future career, but valuable critical thinking skills that they will use throughout all of life."
The camp culminated with a "Parent's Day" where parents were invited to see what the students had learned. The young scientists each made a presentation explaining how they formed their project hypothesis and the research conducted to test their hypothesis.

"In a global economy where innovation provides a competitive edge, science education is important to the advancement of our children," Jan Knowles, RBC's Public Relations and Corporate Communications Manager, said. "RBC firmly believes every child needs and deserves our complete commitment so they can be healthy in mind, body and spirit.
Innovative Science is run all year and provides after-school programmes, in-class workshops, science-themed birthday parties, corporate fun days and environmental awareness exhibitions.
The second session of the camp was held last week at St Thomas More Primary School.
Valecia Richardson said her two weeks at camp had been an exciting learning experience. "We learnt how things around us work and about nature. The rocket blasting was great. Science camp was fun because it was hands on. I thank RBC for the opportunity."