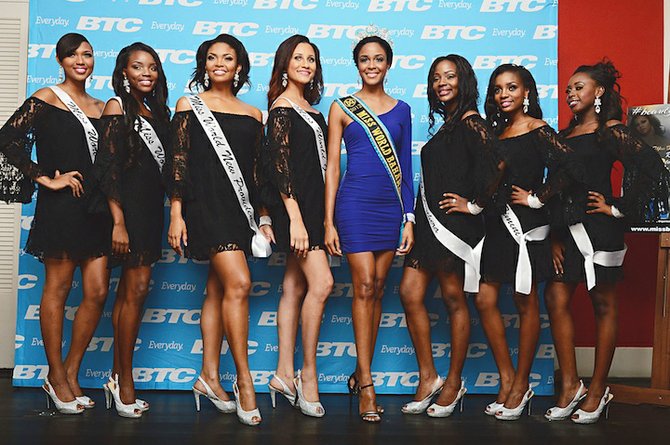 By ALESHA CADET
Tribune Features Reporter
acadet@tribunemedia.net
THE MISS Bahamas beauty pageant is back, this time under the theme "Beauty Personified".
The Miss Bahamas Organisation is giving 13 beauties a chance to compete for the titles of Miss World Bahamas and Miss Universe Bahamas respectively.
On Sunday, the organisation held a launch event at the John Watling's Distillery where a total of six young women were revealed as contestants who are vying for the title of Miss Universe Bahamas and seven were unveiled as contestants for the Miss World Bahamas pageant.
The two queens will be crowned during the August 3 Miss Bahamas pageant double header event at Atlantis, Paradise Island.
The Miss Universe Bahamas contestants hoping to take the crown from 2013 title winner Lexi Wilson are Toni Bethel (Eleuthera), Tomacina Culmer (Grand Bahama), Ominique Burrows (Long Island), Rokara Hepburn (New Providence), Gabrielle Wong (Ocean Cay) and Diandra Brown (Paradise Island).
The Miss World Bahamas entrants looking to succeed last year's queen, De'Andra Bannister, are Pylara Russell (Andros), Cymphony Lockhart (Bimini), Krishanna Culmer (Eleuthera), Rosetta Cartwright (Grand Bahama), Shanae Strachan (New Providence), Chantel O'Brian (Ocean Cay) and Rontre Rolle (Paradise Island).
Each contestant will compete in a number of preliminary events leading up to the Miss Bahamas pageant finales. Preliminary events, which will take place throughout the months of July and early August, include the Top Model Competition on July 25, followed by the Miss World Bahamas National Dress and Miss Universe Bahamas Costume Competition on July 26, the Miss Bahamas Swimsuit competition on July 27, and the Miss Bahamas Evening Gown and Talent Competitions on August 1.
Contestants Rontre Rolle and Rokara Hepburn said they are looking forward to taking part in the swimsuit phase of the competition.
"I am looking forward to the swimsuit segment because everyone has been on me about my weight. I may look small, but the numbers don't say the same. However, I am confident about myself and my body so I am ready for it," Rontre told Tribune Woman.
Rokara said she has been working extremely hard on her body and she is ready to show off the results.
"I am in the gym four days a week for three hours each day. I want everyone to see how my hard work has paid off," she said.
The 6ft 2 inch tall, Rokara said every time she steps into a room she stands out because of her height.
However, she embraces the fact that she is a tall woman.
"Preparing for this pageant has been very busy, but I have gotten to know a lot of great women in this competition and I am excited for the final night," she said.
Rokara said advice she would give to young Bahamian women would be to never give up and to always go after what they want in life. "Do not let people's negative comments discourage you from your end goal; you control your own happiness," she said.
Representing Paradise Island, Rontre said if she were to win the Miss World Bahamas crown one of the things she would do is to help another young lady by the name of Joenelle.
"I read a story about her in the newspapers in May where they were talking about her finding out she has lupus. I actually want to have a fundraiser for her and try to raise enough funds so that she can finish paying off her medical bills that she has away in the United States," she said.
Rontre said the most important thing to keep in mind when entering the pageantry world is to be yourself at all times.

"If you are not yourself, you are not true, and what's the point of promoting yourself if you are not being yourself," she said.
Inspired by Miss Jamaica Universe 2010 Yendi Phillips, Toni, who is representing Eleuthera, said the beauty queen got the chance to perform on an international stage and she embraced her curves.
"Being in a pageant, there is a stereotype of being a stick figure, so I really look up to her because she worked with what she had and she came out first runner-up," said Toni.
Since starting her pageant journey, Toni said one of the things she has learned is that a pageant queen must have proper etiquette skills for all occasions.
"As a young lady, etiquette is really important and I feel like it is something that every woman should have. Let's say you go on a date, you are going to need to know how to dine and eat properly," she said.
Of all the things that can get the adrenaline pumping during a pageant, Toni said what makes her nervous are the crowd-filled rooms and bright lights.
"It definitely adds to the adrenaline, and those are factors that would really cause a contestant in a competition to get nervous," she said.
Eleuthera's Krishanna said with this being her fourth time competing in a pageant, her supporters know exactly what to expect from her, which is hard work.
"Once you have a strong support system and you believe in yourself, that is all you need. My platform is combating peer pressure and building up self-esteem. As a young girl I had a really big self-esteem problem and pageantry really boosted my confidence, so that is something that would really like to continue to promote if I win Miss World," she said
Also at the launch event, American actress, singer and philanthropist, Zuri McDaniels was confirmed as the first in a series of celebrity judges who will select the winners of the two pageants. McDaniels, who is also the wife of Run DMC front man and rap music pioneer Darryl McDaniels, has appeared in a number of documentaries and short films, and is no stranger to the Hollywood acting scene.
For more information, please visit the Miss Bahamas Organisation Facebook page or the website at www.missbahamas.net.