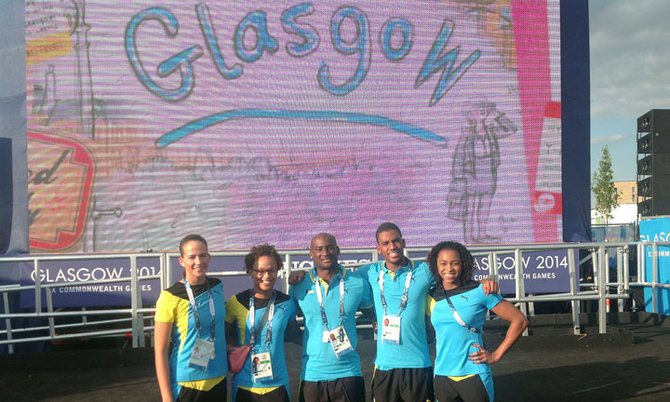 By BRENT STUBBS
Senior Sports Reporter
bstubbs@tribunemedia.net
GLASGOW, Scotland — Coaches Lionel Maureau and Andy Loveitt are so excited about the potential of the Bahamas' five-member swimming team at the 20th Commonwealth Games that they can't wait for the competition to start on Thursday.
"We're looking good. The swimmers are ready. They have the perfect setting at the village and we have a real good setting here at the pool, so we are anxious to get out there and compete," said Maureau following the technical meeting that he and Loveitt attended on Tuesday at the Tallcross International Swimming Centre.
As for his expectations, Maureau said it's simply for them "to give us the best they've got. For some of them it could be medals, like Arianna (Vanderpool-Wallace) and Elvis (Burrows) as well as Ariel (Weech) and we have two good youngsters (Joanna Evans and Dustin Tynes), who could get a good experience out of it."
Since she graduated from Auburn University, Maureau has been working with Vanderpool-Wallace and he's looking for her to make a splash just as she did two years ago when she got into the final of the women's 50m free at the Olympic Games in London, England.
"She had a low-key year last year, but she wants to prove to herself that she can get back to the level that she was at two years ago at the Olympics," he said. "It's time to go."
Loveitt, a coach out of Grand Bahama, said the good thing about this trip is that from the moment they arrived three days ago, they were looked after very well.
"The stadium is perfect. We have been here everyday training and the village is very well laid out. The swimmers are well rested and so I think they are ready to go," he said.
The Bahamas has never won a medal at the Commonwealth Games, the biggest meet on the international scene outside of the Olympic Games. Could this be the year that the flag is hoisted as a swimmer takes the medal dais?
Loveitt surely believes so.
"Arianna's best event is in the 50m free, but I think she might also surprise some people with her performance in the 50m fly," he said. "Of course, we don't want to count out Elvis and Ariel, who are both swimming very well. So I think the senior swimmers are looking forward to doing very well here."
Just after leaving these games, Loveitt will be taking both Evans and Tynes to the Junior Olympic Games in Nanjing, China, and while he doesn't anticipate that they could win any medals here, he is confident that they will gain some valuable experience for the next meet.
"This is their first senior international meet, but going to the World Junior Championships last year was a great introduction for both of them," he said. "Coming here, Arianna has been a real great role model for them so far, assisting them in getting through the whole experience. So I'm looking for them to do some very good times, possibly breaking their national records."
For 24-year-old Vanderpool-Wallace, this is her maiden voyage at the Commonwealth Games and while she doesn't have any expectations, she's looking forward to leading by example after she takes her stroll inside the historic Celtic Park as the Bahamas' flag bearer today.
"I really want to swim best times and hopefully they will get me on the podium," she said. "If they don't, I will be happy with the best times regardless."
Looking at the team, Vanderpool-Wallace said the Bahamas Swimming Federation has joined the Bahamas Olympic Committee in putting together a very solid team that should make the Bahamas very proud.
One of those swimmers who hopes to join Vanderpool-Wallace in bringing some glory to the sport is Elvis Burrows. He just arrived in town yesterday and already got his feet wet.
"The village is very nice and I got a chance to test the waters here for the first time, so I'm looking forward to swimming (on Thursday when he opens up with the heats of the men's 50 metres butterfly), Burrows said.
"I've been training really well. I've had some good practices, kind of a mock race, so I'm on par where I feel I can break the national record and be in a contention for a medal here. If I don't win a medal and I break the national record, this would be a very successful meet for me. If I do the two, I would be more than elated."
Like Vanderpool-Wallace, Weech has been here a few days getting acclimatised and she's been taking advantage of everything that they have to offer in the games village in her spare time.
"I have more preparation (not swimming until Friday) and an opportunity to watch other people swim," Weech said. "Hopefully I can get inspired and motivated to go out there and swim just as fast as they do."
Tynes is still trying to get over the jitterbugs of being at his first major senior meet.
"This is the nicest pool that I've been in since Dubai last year (at the World Junior Championships), so I'm really excited and can't wait to swim," he said. "It's more than I expected, being around the Olympic athletes and rubbing shoulders with them."
If he can get into the semifinals and swim personal best times in his events, Tynes said he will be even more excited to go to the Junior Olympics and perform at an even higher level against his age group peers.
And Evans said while this is the biggest event she has been to, she's taking it all in stride and learning as much as she can from the senior athletes who have been in this atmosphere before.
"I didn't know what to expect, but it's well organised, so it's been running very smoothly," she said. "So that has been very good for me. I am just here to swim my best and make the Bahamas proud."
No doubt, just being here to compete, Evans and Vanderpool-Wallace, Burrows, Weech and Tynes have already made the Bahamas proud.