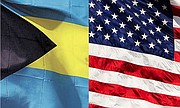 By KHRISNA VIRGIL
Tribune Staff Reporter
kvirgil@tribunemedia.net
OFFICIALS at the United States Embassy in Nassau yesterday attributed a long-standing vacancy with the ambassador's post in the Bahamas to the US Senate's failure to confirm State Department nominees.
Neda Brown, acting deputy chief of mission and Embassy spokesperson, released a statement on the issue in response to questions from The Tribune.
She said there are 58 nominees pending for various confirmations before the Senate, including 43 ambassadors.
In February, the White House announced President Barack Obama's nomination of Cassandra Quin Butts as ambassador to the Bahamas. Almost a month later – on March 13– Ms Butts appeared before the Senate Foreign Relations Committee.
During that hearing, Ms Butts said one of her priorities, if confirmed as ambassador, would be to ensure that all illegal immigrants detained in the Bahamas are treated humanely. She further pledged to ensure that all US citizens are safe while they live in or visit the Bahamas.
Since then Ms Butts, a 48-year-old attorney and former deputy White House counsel, has been awaiting confirmation.
"I'm unable to speculate on Ms Butts' pending confirmation," Ms Brown's statement said. "On July 10, 2014, US Secretary of State John Kerry made a personal appeal to the United States Senate to confirm the State Department's nominees. Secretary Kerry noted that the delay in pending appointments "means we're going without our strongest voice on the ground every day in more than 25 per cent of the world."
"To date, there are 58 nominees pending before the Senate, including 43 ambassadors."
US Chargé d'affaires Lisa Johnson, who was appointed earlier this month, is expected to serve as the chief of mission until the Embassy receives official notification of Ms Butts' confirmation and presents credentials to Governor General Dame Marguerite Pindling.
The last US ambassador to the Bahamas, Nicole Avant, took up her post on October 22, 2009. She resigned on November 21, 2011 and returned to private life in Washington.