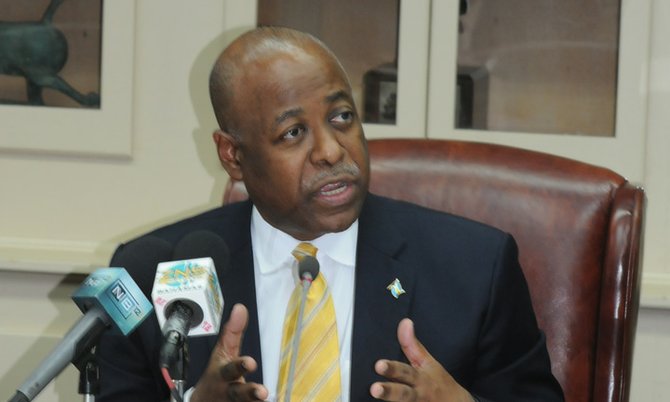 By AVA TURNQUEST
Tribune Staff Reporter
aturnquest@tribunemedia.net
THE government has not yet determined whether persons with a criminal record will be eligible to obtain webshop licences, Tourism Minister Obie Wilchcombe confirmed yesterday.
While he did not give an updated timeline for when the highly anticipated legislation will be brought to the House of Assembly, Mr Wilchcombe said the government will be prepared to debate it after Bills for Value Added Tax and the
upcoming constitutional referendum were passed.
According to an industry insider, a prominent web shop owner was told last week that he would not be able to obtain a licence given his criminal record.
"We're still working on it (gaming legislation)," Mr Wilchcombe said when questioned about the report. "At the end of the day I think it's still premature to talk about anything that is going to be in the legislation before you see it. We're fully aware of our circumstances in the Bahamas, based on our own research to craft legislation that takes into account the reality of our country and what exists in the Bahamas.
"In fact all owners now are in breach of the law, so if you look at it that way you shouldn't even look at what regularising will do."
He said: "What we're trying to do is find a paradigm that allows us to accept the reality of the Bahamas and the existence of persons in such circumstances to arrive at legislation beneficial for the country."
According to the insider, there was also speculation that the legislation would place restrictions on web shops that would limit online gaming; however, Mr Wilchcombe said he was "not sure that is absolutely correct". He advised persons concerned over the legislation to wait until it is released before making assumptions.
Mr Wilchcombe said: "What we have done is we have looked at the way the games exist and what the activity is that takes place in the web shops today, and we have sought to create for an industry regulations that does not in any way destroy the strong and lasting integrity of our country.
"Any matters that would represent or could cause for money laundering or anything of a nefarious nature, we have in our consultation, in our discussions locally and globally, we have sought to move away from that."
He added: "I'm not sure that we are restricting online transactions, because the competitive nature that takes place within the web shops - online gaming is a part of it. It's online. I think there is a lot of speculation because this is brand new. We have made a major decision, it has not been easy getting to where we are today."
Two weeks ago, Attorney General Allyson Maynard-Gibson met with members of the Financial Action Task Force (FATF) in Paris to gain insight on whether the proposed web shop regulations would stand up to international scrutiny on anti-money laundering and counter-terrorism financing guidelines.
Her trip followed a report from RBC Bahamas that confirmed the bank was not allowed to do business with web shops regardless of their regulatory status given the sector's "high risks" and international policy restrictions.
Last week, Mr Wilchcombe said officials were sifting through several documents and reports from the FATF to incorporate the recommendations into the finished gaming legislation.
Yesterday, Mr Wilchcombe said: "We're moving with haste to get further along, we are near there now. We've had incredible discussions, and I feel very good about the level of professionalism not among politicians, but the Attorney General's Office, the Ministry of Tourism's legal team and in the Office of the Prime Minister.
"We've reached out and talked with the local operators, the hotels, casino operators. We've had a tremendous amount of dialogue and there is a level of maturity and professionalism," he said.
Mr Wilchcombe said his administration accepted the criticism over its decision to transform the "illegal trade" into a regularised legal industry, adding that all efforts were in the best interest of the country and its integrity.
He said that as far as gaming was concerned it was important to ensure there was no conflict between web shops and land-based casinos.
"The (web shops) have been more than helpful in working with us, their legal team has presented their objective positions," he said.
"We are all at the starting gate and as soon as we complete the constitutional debate and the VAT debate, the next debate will be the gaming legislation."
Mr Wilchcombe said he believed that when the component of illegality was removed, there would be a greater appreciation for the rule of law in the country, adding that the status quo sent the wrong message to children who witnessed, or engaged in, the unregulated gaming activities.