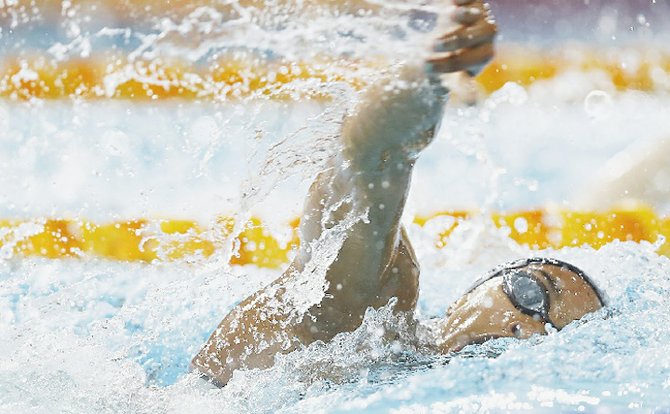 By BRENT STUBBS
Senior Sports Reporter
bstubbs@tribunemedia.net
GLASGOW, Scotland — Arianna Vanderpool-Wallace, still in a celebratory mood over her record-breaking national feat in the women's 50 metres butterfly the night before, can now breath a sigh of relief.
All the pressure was lifted as she completed the last of her series of events in the 100m freestyle with a fifth place finish in the final at the Tollcross Swimming Centre on Monday.
Her time of 54.37 seconds was another lifetime best. But as she looks back over her trip here, she will remember a couple of names.
Two of them were the Australian sister combo of Cate and Bronte Campbell, who took the gold and silver in a games record of 52.68 and 52.86 respectively. It was a complete sweep of the podium position for the Aussies as Emma McKeon took the bronze in 52.61.
If there was any other competitor Vanderpool-Wallace will not forget, it's Francesca Halsall from England. While she had to settle for the fourth spot in 52.99, she was able to keep her winning streak going over Vanderpoool-Wallace in the meet.
A day ago, albeit behind Halsall, Vanderpool-Wallace put the Bahamas on the map when she attained the first swimming medal in either the Commonwealth or the Olympic Games. The silver came after Vanderpool-Wallace was denied the opportunity to get the Bahamian flag raised with a medal in her specialty in the 50m free on Friday in what turned out to be a heart-breaking, record-breaking performance.
It was Vanderpool-Wallace, with her parents in the stands cheering her on, who led the Bahamas' five-member swimming team to break just about every record in every event they competed in, producing one of the greatest feats ever.
As she closed out her meet, so did Elvis Burrows in the heats of the men's 50m free. Burrows, in his second meet for the games, got second in his heat in 23.24. However, that left him in 17th spot overall in the first spot behind the top 16 competitors, who advanced to the semifinal. The last qualifier was Curtis Coulter in 23.23.
The Bahamas is not quite done yet. Today, as the swimming competition comes to a close, teenage sensation Joanna Evans will bring the curtain down when she competes in the heats of the 400m freestyle.
Evans, along with Dustin Tynes, have been using the meet as a tune-up for the Junior Olympic Games next month in Nanjing, China. They both will leave their first major international competition with lifetime bests and a couple of national records.
The other member of the team was Ariel Weech, who also produced a series of lifetime achievements, swimming in two events in the same heat with Vanderpool-Wallace. They were coached by Lionel Maureau and Andy Loveitt. The latter will accompany both Evans and Tynes to China. The team was managed by Kathy Dillette.