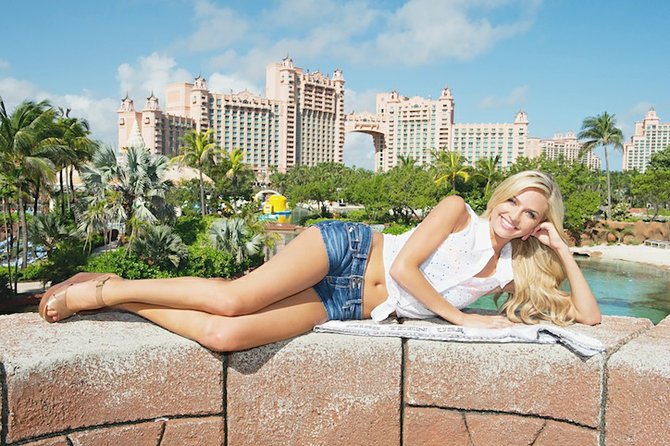 By JEFFARAH GIBSON
Tribune Features Writer
jgibson@tribunemedia.net
ASPIRING beauty queens will be given first-hand experience of the exciting world of pageants when Miss Teen USA hosts its special workshop at Atlantis.
The workshop, which will feature the 2013 Miss Teen USA Cassidy Wolf, will be held on Friday, August 1 at the Atlantis Convention Centre, Coral Towers, from 9am to 5.30pm.
It will offer girls from ages 12-18 the chance to experience all of the ins and outs of pageant competition. They will meet with the Miss Teen USA official swimsuit sponsor, choreographer, hairstylists, coaches, judges as well as with Miss Universe Organisation President Paula Shugart.
Morgan Frazier, brand communication and marketing manager at Atlantis, told Tribune Woman that the workshop is a once-in-a-lifetime experience that will help young ladies get their feet wet so that they can get an idea of what they can expect during an actual competition.
"Girls will get to meet and talk to them, do a mock interview, talk about swimsuit choices, hair and makeup and much more. The coaches and mentors are able to show young women what is needed in order to be successful, not just in pageants, but in future work and life situations," Ms Frazier said.
"Participants can expect to have their eyes opened to the motivating and inspiring world that is pageant life. Pageants are all about instilling confidence in young girls and letting them express who they are."
Ms Frazier said the workshop will give the participants an edge should they opt to enter or compete in a pageant in future.
"Participants will leave the workshop with an incredible amount of insight and knowledge and first-hand experience of pageant activities. It will definitely give them an advantage for pageants over those who have not gotten this knowledge or experience from the pros," she said.
"The most beneficial thing will probably be that they will come out feeling and knowing that anything is possible once they work hard towards it. Winning a pageant is no easy feat, but these mentors and professionals will guide them as to how best to exploit their talents and advantages in a positive way," she said.
After participating in the workshop, the girls will have the chance to watch the Miss Teen USA 2014 pageant live.
For more information contact, 363-2000 ex 66841 or e-mail Lakesha.Coakley@atlantisparadise.com