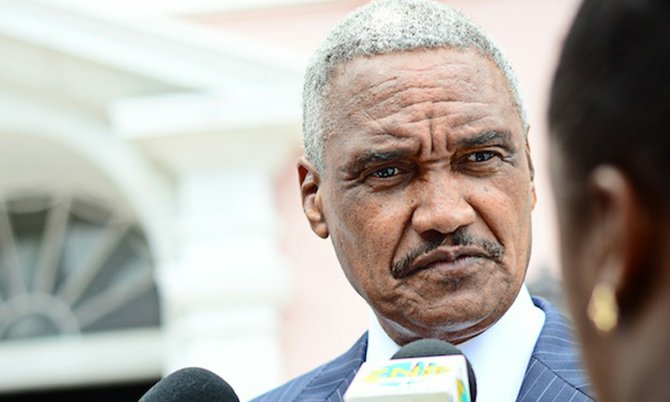 HAVE YOUR SAY ON BEC OUTAGES HERE
By SANCHESKA BROWN
Tribune Staff Reporter
sbrown@tribunemedia.net
THOUSANDS of Bahamas Electricity Corporation customers were again without electricity yesterday after "generator challenges" at the Blue Hills Power Station interrupted the supply to more than 50 per cent of New Providence.
Guests at Atlantis on Paradise Island were inconvenienced for some time as well due to the cuts, with power not being restored to some parts of the hotel until 4pm.
Although BEC restored power to parts of the island yesterday, the corporation warned that power outages were expected to continue last night in certain areas. And as The Tribune went to press last night, there were reports from both eastern and western parts of the island of more power cuts.
Around 7:30am yesterday, according to BEC sources, a cable blew between the Big Pond substation and the Blue Hills Power Station causing power outages in eastern and southern New Providence.
Power was eventually restored to those areas around 10:30am but there was another outage about an hour later after a small "explosion" at the Baillou Hills plant, The Tribune was told. This time, in addition to eastern and southern New Providence, western parts of the island were affected.
Up to 5pm yesterday power was still off in parts of eastern and central New Providence.
Yesterday's power issues marked the third major power outage to affect the capital in three months.
"Two engines tripped at Blue Hill and the generator went on and off to protect itself," a BEC source said. "Then there was a small explosion and the technicians are working to get those engines back on and running, we had to put in a spare switch or result to load shedding which no one wants."
In a press statement released yesterday, BEC blamed the outages on "generator failures" at the Blue Hills Power Station.
BEC said teams were able to restore supply to some of the affected customers by 11:15 am and that 99 per cent of the customers affected had their supply restored by 2pm. However, BEC noted it had continued challenges yesterday after some customers had their services cut for a second time.
"The Bahamas Electricity Corporation advises its customers in New Providence that it is currently experiencing generator challenges at its Blue Hills Power Station. As a result, portions of the island are without electricity supply," the release said.
"The corporation notes that at approximately 7:30am on Monday, several generator units at its Blue Hills Power Station tripped offline causing the outages. The corporation maintains that this is not an island-wide outage as approximately 50 per cent of customers have not experienced any loss in electricity supply. While the cause of the generator failures is still unknown, BEC teams are working aggressively to return those units to service and restore supply to affected communities as soon as possible."
BEC said two of the generator units that failed yesterday morning continue to experience problems resulting in outages for customers in eastern New Providence and on East Street South.
"BEC expects that until the units return to service, customers in different communities may experience outages throughout the evening.
"In the meantime, an investigation into the cause of the outages will be completed; however, immediate efforts are focused on restoring electricity to affected communities," BEC said.
The power cuts affected services at the Atlantis resort on Paradise Island.
Ed Fields, Atlantis' senior vice president of public affairs, said Coral Towers, Royal Towers and the Reef were out of power until noon while Beach Towers was without power until 4pm.
"Obviously we have generators but in some instances, due to brownouts, we couldn't turn those on right away," he said. "(Luckily) most guests were out on the beach, it's better (to have power outages) during the day than the night however it still affected the casino, IT, our phone systems and the air-conditioning."
Mr Fields said it was too early to say if the resort will seek compensation for damages from BEC, nor could he say what losses if any the property suffered from the outages.
Some angry residents took to social media websites to vent their frustration on the power cuts.
One angry customer said on social media: "Every two to three minutes the power is going off. This is ridiculous. When is the government going to fix the problem? I swear, I am going to eat tuna for a year to save up and buy a generator."
Another said: "I hate BEC. I (have) been in Missouri almost three years and the power only dipped once. (I have) almost been in a tornado and power stayed on. In the Bahamas, power cuts off if too many mosquitoes are in the air."
A business owner said: "Do you know how many companies lost all kind of money today due to BEC's foolishness? Who (will) reimburse us?"
BEC has been grappling with issues over the past few months which have led to numerous power outages.
In June, five of BEC's engines were struck by lightning leading to widespread power outages in New Providence. Last month, a shortage to the high voltage cables at a station on Soldier Road led to generator failures at both the Clifton Pier and Baillou Hill plants. The outage lasted almost 12 hours and was followed by others as the corporation resorted to load shedding until all the generators were up and running at full capacity.
It caused great distress for residents, who sought respite from the heat by driving around in air-conditioned cars and going to gas stations, while some ventured to the beach and slept in their cars until power was restored.
Following that blackout, the government hired four American consultants to assess the problems at BEC and make recommendations.
BEC Executive Chairman Leslie Miller has not yet released that report.
Attempts to reach Mr Miller for comment on the outages were unsuccessful yesterday.