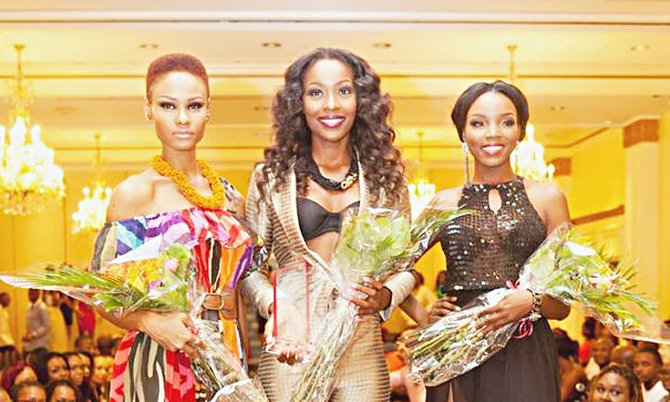 By ALESHA CADET
Tribune Features Reporter
acadet@tribunemedia.net
MISS UNIVERSE Grand Bahama Tomacina "Tomii" Culmer won the judges over with her poise and presence during last Friday's Miss Bahamas Top Model competition held at the British Colonial Hilton.
Out of 13 contestants, Tomii's light shined brightest as she graced the runway in three fashion scenes by local designers.
As a result, she won a contract and a six-page spread with Profiles 98 Magazine, in addition to international training in the United Stated and Jamaica.
Meanwhile, Ominique Burrows won first runner-up and Chantal O'Brien was named the second runner-up.
The pageant final – a Miss Bahamas double header featuring Miss Universe and Miss World contestants – will take place on August 3 at the Atlantis Resort.
Tomii is no stranger to the modelling world, having won the second season of the Campari Caribbean Poster Girl competition. However, she said she is also a down to Earth "tomboy" of sorts, who studied carpentry and joinery in high school and later went on to study automotive technology at BTVI.
"It feels great to win the Top Model segment because I didn't expect it. These girls have bomb walks. I didn't really go into it thinking I was going to win. I went into it thinking that it was another fashion show. However, it is a really good feeling to have a plaque and flowers," Tomii told Tribune Woman.
She said the Top Model segment was a phase in the competition that she was looking forward to above all other preliminary events.
"In the beginning we found out that it was going to be a separate event where Miss Universe Bahamas was not going to be a part of Top Model, and about two weeks ago they decided to make it a double header. When that all changed I was excited," said Tomii.
Tomii said she is very serious about her career in modelling. She has travelled to places as far as New York and Guyana to pursue her dream. Just recently she travelled to St Lucia to participate in their Carnival festivities on behalf of Campari. As she gains more experience, Tomii said she is getting more beneficial modelling gigs.
With a platform and mission statement to inspire, nurture and encourage self-worth and inner peace within youths and children, Tomii said she hopes to make a difference.
"A lot of the problems in society today come from people not accepting who they are and this is something that needs to be dealt with, as well as education," she said.
She encouraged young Bahamian women to live with no regrets and to forget about the "what-ifs".
"A lot of times there were people that told me modelling doesn't make sense and asked why am I doing it. I say do it if you are passionate about it. I am very passionate about this and I am happy about it. If I go home and don't have a dollar in my pocket, I am happy that modelling makes me a happy person," she said.
Aside from the Top Model show, Tomii said she was very excited for the Costume Parade and competition that took place on Saturday.
Calling her costume creative and "dope", she said she had no clue that she would be one of the contestants would make the top three.
"I am interested in seeing all the creative ideas come to life because this is a stiff competition and I don't think they are holding anything back this year," she said.
The contestants with the top three costumes for the Miss Universe Costume Competition were Toni Bethel, Rokara Hepburn and Tomii. The overall winner will be announced during the August finale.
Tomii encouraged her fans to log on to MissBahamas.net and vote for her to be the next Miss Universe Bahamas 2014.
The Miss Universe Bahamas 2014 contestants include Toni Bethel representing Eleuthera, Ominique Burrows representing Long Island, Rokara Hepburn representing New Providence, Gabrielle Wong representing Ocean Cay, Diandra Brown representing Paradise Island, and Tomacina Culmer representing Grand Bahama.
The Miss World Bahamas 2014 contestants are Pylara Russell representing Andros, Cymphony Lockhart representing Bimini, Krishanna Culmer representing Eleuthera, Rosetta Cartwright representing Grand Bahama, Shanae Strachan representing New Providence, Chantel O'Brian representing Ocean Cay, and Rontre Rolle representing Paradise Island.