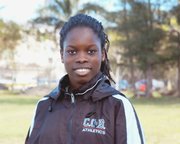 By BRENT STUBBS
Senior Sports Reporter
bstubbs@tribunemedia.net
GLASGOW, Scotland — Tamara Myers surprisingly found herself where no athlete wants to be in the qualifying round - the last position to get into the final.
On Monday night in the women's triple jump preliminaries, Myers was 13th overall, one spot shy of booking her ticket into the final of the women's triple jump at the 20th Commonwealth Games.
Only the top 12 earned the rights to compete in the final tonight at 1:40pm EST. Myers popped her best jump of 12.87 metres or 42-feet, 2 3/4-inches on the last of her three attempts. She was beaten out for the final spot by Mathide Boateng of Ghana with 13.07m (42-10 3/4).
"It didn't get started out too well," said Myers, who admitted that she didn't have a good series of jumps.
The North Andros native, who will also be contesting the long jump, was the second Bahamian to be eliminated. She joined Jamal Wilson, who didn't survive the cut in the men's high jump earlier in the day with Donald Thomas and Ryan Ingraham, who both advanced to Wednesday's final.
"The first jump was a foul, I went to the second jump and tried to get it together and I wasn't balanced too well and I almost fell into the pit," Myers said. "Then on my third jump, it was my best one. I was hoping that it was good enough to get me into the final."
Myers said the good thing is she has the long jump to fall back on when the preliminaries get started today. She will be competing along with Bianca 'BB' Stuart.
"I'm looking to at least do my personal best," Myers said. "If I can achieve that, I know I will be in a good position to do very well here."
After knocking on the door of international prominence for the last decade, Wilson finally got his opportunity and he came up short of getting into the final, but bowed out of the competition at the Hampden Park with a leap of 2.11 metres or 6-feet, 11-inches.
That placed him tied with two others for 14th place. All 12 qualifiers, including Thomas and Ingraham, went in with just 2.20m (7-2 1/2). The automatic qualifying height was 2.23m (7-3 3/4), but they didn't have to clear that height as the remaining jumpers fell out of contention at lower heights.
"It was terrible. Bad timing and bad placement," was how Wilson described his performance. "I felt good, physically ready, but just the timing, the timing over the bar. I just couldn't get it right.
"Unfortunately, it didn't allow me to get into the final, so I won't be jumping again in the Commonwealth Games. It was a good experience, but it's a terrible experience because I didn't get to do what I wanted to do and that was to get on the medal podium. But I'm still living and still alive. Better luck next time."
It will be another showdown in the final for the Bahamian duo of Thomas and Ingraham.
Before the night was out, another jumper got eliminated as Tamara Myers' debut was cut short in the women's triple jump preliminaries.
Ingraham, the 20-year-old now a full blown professional athlete after a brief but incredible rise through the junior ranks, said he couldn't ask for a better effort in the preliminaries.
His only hope is that he can duplicate it in the final.
"I was just trying to keep warm," he said. "I am just hoping that I can do my best and come out with a PR (personal best)," he said. "If I can get a medal, I will be very happy.
"I know we will always have two Bahamians in the final whenever we all compete together. Jamal was supposed to be there too, but things just didn't go his way. Hopefully next time for him. It's not up to me and Donald to do it."
In the final on Wednesday at 1:40pm EST, Ingraham will be the third jumper on the runway, while Thomas will come out seventh.
"I feel good. Thank God I made it. My preparation is going great, so I'm just looking forward to the final," Thomas said. "We have two Bahamians in the final, so we should do very good. But I'm going in there to focus on me."
Thomas, 30, was converted to the high jump after he took up a dare challenge as a college basketball player at Lindenwood University. In his first meet, he cleared 2.22m before he went on to win the 2006 NAIA Indoor Track & Field National Championships with a height of 7-01.75.
That same year, he also finished fourth in his debut at the Commonwealth Games.
The following year in 2007 in Osaka, Japan, Thomas turned out to be the "boy wonder," winning the IAAF World Championship title. Three years later in New Delhi, India, he rose on top of the podium again as the 2008 Commonwealth Games champion.
Ingraham, who also made the switch over from playing basketball for the CI Gibson Rattlers to the high jump, emerged on the scene in 2012 as the CARIFTA champion in Hamilton, Bermuda, to the IAAF World Junior Championship champion in Barcelona, Spain, that summer.
He participated in the 2010 Olympics in London, England, where he placed ninth overall. Now he's making his debut at the Commonwealth Games, looking for another medal.