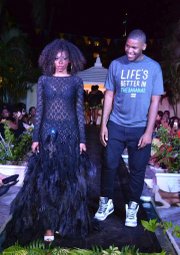 By ALESHA CADET
Tribune Features Reporter
acadet@tribunemedia.net
UNWILLING to settle for just local acclaim, Bahamian designer David Rolle's dream is to one day have his fashion creations sold around the world in stores like Macy's, Forever 21, ASOS and H&M.
Getting one step closer to making his vision a reality, he recently hosted a successful runway showcase at Club Land'Or, Paradise Island.
The "Resort 2014" show was presented by David's House of Raphelita clothing line in collaboration with Harl Taylor BAG.
"I have been a creative director for Harl Taylor BAG for over a year now, and having creative control over two brands, one a clothing company and the other and accessory line, I really thought having a show like this would be the best way that I can raise funds for myself to do some more schooling," the designer told Tribune Arts and Entertainment.
"I pitched the idea to Beverly Taylor (mother of the late Harl Taylor) and she thought it was an amazing idea, so we went ahead, set a date and started planning towards it. We partnered with some other Bahamians in fashion as well. We are excited that they offered us their services in support of my educational funds," he said.
David said both collections, House of Raphelita and Harl Taylor BAG presented pieces from their 2014 resort " island-feel" collection.
"Every piece modelled was a piece that a lady can walk into a store to get and wear. While some of the pieces are slightly dramatic, it is all ready-to-wear. Some of the pieces range from swim to evening wear; there was also a lot of casual wear. One of the most important things that I have learned from the time I started fashion design to now is marketability and the fact that clothing, once it leaves the runway, has to be functional," he said.
David said too often Bahamian designers get a bad reputation internationally for making clothing that women can never wear because the pieces are just not practical. He said it feels good to present a collection that is fully ready-to-wear.
"The biggest trend right now is probably the crop top; they are very resort and very summer. I think there is also the print fashion that does not seem to be going anywhere, so I am playing with a lot of those and bright colours," he said.
David said when he first started out as a designer it was just to put on a show so that he could receive a big round of applause at the end of his showcase. His delivery, clothing and models were more dramatic. However, he said he is now more focused on the business side of fashion design and as with any field, he wants to make money.
"My clothing designs are more commercial. While they still give you a feel of haute couture, at the end of the day it is all about numbers and how many pieces from a runway show that you can actually sell. I want international places like Macy's and ASOS to say, design a collection exclusively for us and we will call it House of Raphelita for Macy's," he said.
"I want to one day to be selling 10,000 of one piece. I want to be able to live off royalties from one single design rather than just selling one piece and that being it. I want to use this creative gift that God gave me and capitalise on it."