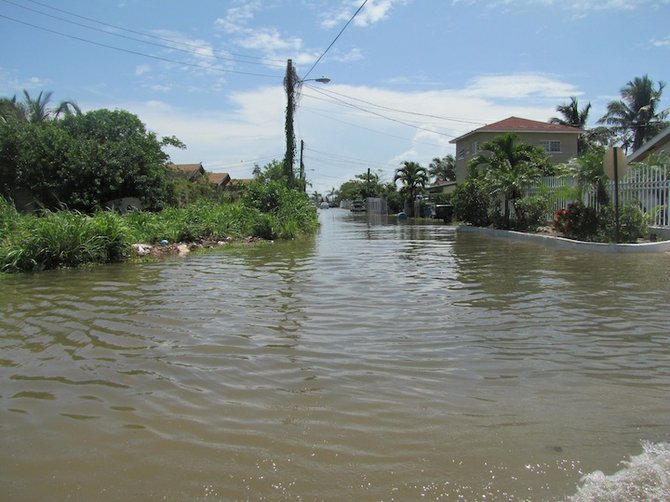 By KYLE WALKINE
Tribune Staff Reporter
kwalkine@tribunemedia.net
THE entire southern corridor of New Providence, including Pinewood Gardens, may not be able to handle extensive flooding this hurricane season if rainfall exceeds the holding capacity of the drainage system.
Today marks the first official day of the 2014 hurricane season with the National Oceanic and Atmospheric Administration (NOAA) projecting that there will be between 8 and 13 named storms this year with six of them becoming hurricanes.
According to the NOAA, two of them will have the potential of becoming a category three hurricane or higher. This means that wind speeds will be 111mph or higher.
Pinewood Member of Parliament Khaalis Rolle recently told The Tribune that his constituency is prepared for the upcoming hurricane season. However, he added that there is much needed work to be done to fix the drainage system.
"We're going through a process now of making sure that all of the drains are cleared," he said.
"I'm hopeful that over the next couple of days we make some concrete decisions on how we're going to deal with the flooding issue in Pinewood."
During May of last year one night of torrential rain and a spring tide resulted in massive flooding throughout several parts of southern and eastern New Providence, with the hardest hit areas including Pinewood and Yamacraw.
The flood damage to cars, homes and furniture was so extensive that the government was forced to give duty exemption to those who were adversely affected.
In Pinewood there are more than 80 drainage wells with depths between 150 and 200ft. However, the area's geographic characteristics make the wells inefficient.
According to Mr. Rolle, fixing the drain problem may take a couple of years to correct.
"You're dealing with revamping the entire infrastructure for flooding that has been taking place for many, many years. But we're hopeful. We have a well designed programme and the beauty of this one is that it is less to rectify than previous proposals that came before the government, which were in the range of $40 million. We believe that this solution is at max a $15 million solution."
The Pinewood MP said when tenders go out for the contract, Bahamian companies would be given top preference.
"I'm in favour of giving Bahamian companies first right in any work taking place in The Bahamas. It's a philosophy that I've always held. You know, I'm a Bahamian businessman by profession. So I understand the need to ensure that Bahamian businesses are protected and given preferential treatment whenever there is an opportunity to do so in the private or public sector."
The contract for drainage work is for the entire southern corridor.
The National Emergency Management Agency (NEMA) released a statement yesterday saying that it is prepared for the hurricane season.