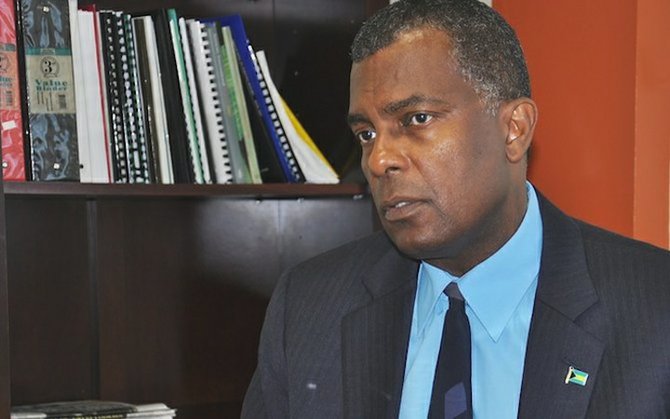 By AVA TURNQUEST
Tribune Staff Reporter
aturnquest@tribunemedia.net
THE increase of just over $1m in the 2014/2015 budget allocation for the Ministry of Foreign Affairs and Immigration reflect only cost-adjustments, according to Minister Fred Mitchell.
Mr Mitchell said yesterday the figures revealed last week do not represent an increase in spending capabilities for his ministry.
Responding to questions at a press conference, Mr Mitchell said: "It's a little difficult for me to say. What I think is that there were certain allocations which had to be made over the course of the past year because of various demands made by the government on the ministry, and I think these are just cost adjustments which would have accommodated those changes made over the past year. That's my understanding of it."
The Ministry of Foreign Affairs and Immigration will see its budget increased to almost $26.2m from $24.9m.
The ministry's budget for travel and subsistence has an estimated increase of $157,440, bringing it to $250,000 in the new fiscal year.
During his budget communication in the House of Assembly on Wednesday, Prime Minister Perry Christie said his government will focus on getting the country's fiscal house in order and ridding the country of the "fiscal albatross" that hangs around its neck.
"By breaking the vicious cycle of deficits and debt buildup on a permanent and sustainable basis, we will reap a sizeable fiscal dividend that will be available to adequately finance our aggressive economic and social policy going forward," Mr Christie said.
Government borrowing for the upcoming fiscal year will shrink to $343m compared to the $465m that was borrowed in the 2013/2014 fiscal year.
Spending estimates in the 2014/2015 budget reveal that 30 government ministries and departments will get increases in their allocations in the new fiscal year.
However, there are several ministries and departments which will see their budgets cut in the upcoming fiscal year including, among others, the House of Assembly, the Department of Public Service, the Cabinet Office, the Parliamentary Registration Department, Bahamas Information Services, the Government Printing Department, the Department of Lands and Surveys, the Department of Education, the Department of Archives, the Port Department and the Ministry of Environment and Housing.