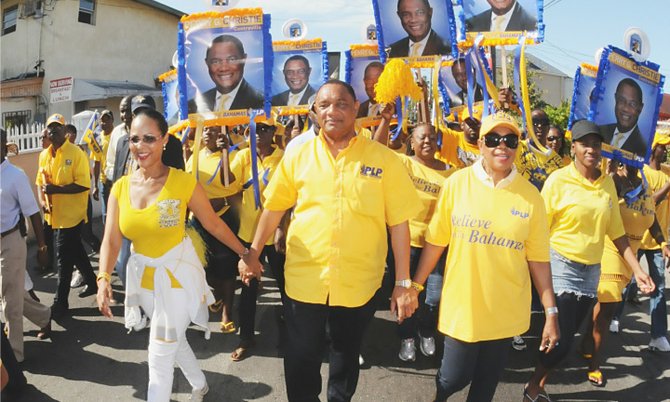 By TANEKA THOMPSON
ALTHOUGH the next general election is some three years away, speculation is rife about who will lead both major political parties into the fight in 2017.
For the official opposition, it is unclear who will emerge as the contender to battle for the country's top political prize. While Dr Hubert Minnis hold the reigns of the Free National Movement (FNM) for now, he will likely be challenged at the party's convention, if not this year, then certainly ahead of the vote in 2017.
The obvious rivals to Dr Minnis' post are Long Island MP Loretta Butler-Turner and former Senator Dr Duane Sands, both of whom have been positioning themselves for higher public office over the past few months. Many more will likely emerge from the shadows closer to the next FNM convention and give Dr Minnis a run for his money.
However the Progressive Liberal Party (PLP) appears poised to keep Prime Minister Perry Christie on as its leader, despite the leadership aspirations of senior PLPs, in order to secure a victory at the polls and keep the party in governance.
By most accounts, unless he decides to step aside and give up his crown, Mr Christie will lead the PLP into the next general election and could stay on as leader of this commonwealth well into his late 70s.
Those within the PLP who have leadership aspirations are said to be Deputy Prime Minister Philip 'Brave' Davis, Minister of Tourism Obie Wilchcombe and Minister of Foreign Affairs and Immigration Fred Mitchell, among others.
"There is a foregone conclusion that Perry Christie will lead the party into the next election in 2017," said one PLP MP, who spoke on condition of anonymity. "There is no one else who can lead the PLP. But if he stays on he will wipe out a whole generation of leadership aspirations including that of Brave, Fred and Obie."
Although there are a few who are disaffected by the ambiguity surrounding the prime minister's political future, many in the PLP believe that as long as Mr Christie can help them to win the next election then they are happy for him to stay on as leader, Insight was told.
"He has given no indication to members of the party about his future," said a senior PLP MP, adding that "in his gut" he feels that the prime minister has no plans to step aside.
"If the economy is in better shape (nearer the election) many leadership hopefuls will likely put their ambitions aside to remain in government with Perry Christie as leader."
Mr Christie has hinted that this term in office will be his final in front line politics. But he has also suggested a willingness to stay on as PLP leader, saying that if former Prime Minister Hubert Ingraham returns to the fray then all bets are off.
This uncertainty surrounding succession in the PLP is concerning for members in the party, George Smith, a former Cabinet minister in the Pindling administration, told Insight.
"There is no doubt that Philip Davis wants to lead the PLP, there is no doubt that Obie (Wilchcombe) played with the idea, some people believe that Jerome (Fitzgerald) is the best bet, so they meet and they talk," Mr Smith said.
"Fred (Mitchell) is making all these trips because he hopes that if something happens he can get a significant investor, then he be will perceived to be a major reason that caused the economy to grow. They are all gambling, Shane Gibson, and others. I don't think there is going to be a leadership race until Christie decides to go, even with the mistakes he made. He is cautious, but the Bahamas is safe in his hands - even Ingraham will tell you that.
"Do I think the Bahamas will be safe in someone else's hands? Christie will probably be the best bet to help us win the next election, not that it will be easy, but he can pull it off. If the FNM doesn't reconcile with (Branville) McCartney and that group (the DNA) he will be spoiler for the FNM. At least in the last election they had Ingraham - Minnis, Duane Sands and Loretta Butler-Turner put together can't make one Ingraham."
The lack of an obvious replacement for Mr Christie and the purported reluctance of candidates to step forward to vie for the party's top post is evidence that the country is in a "leadership crisis", one political observer, who did not want to be named, told Insight.
Some question whether any of the new generation MPs such as Bamboo Town representative Renward Wells and Fort Charlotte MP Dr Andre Rollins will step forward as possible contenders. However it is likely they will wait another election cycle before making their aspirations known.
"It's the better the devil you know than the devil you don't. The problem with the PLP is they don't have a real alternative," the observer said. "It is a disservice to the country but many politicians have no real genuine interest in country; for them it is a career, in the Bahamas politics is a career and people act in their interests and in the interests of those closest to them. They may couch it in altruism and say they are doing this in the public good but you show me examples of that in this administration."
The contenders for the PLP throne all appear to have "fatal flaws" and come up short when compared to Mr Christie.
"Brave is the gift that keeps on giving in terms of gaffes, BJ (Bernard Nottage) is too old, he's damaged goods," the observer said. "There is Shane Gibson, yes he enjoys an enormous amount of popularity and he is Teflon but I think any self respecting Bahamian ought to give great pause when you start talking about Shane Gibson as leader of a major political party.
"Fred Mitchell is competent but he is arrogant, he is dismissive and has contempt for everyone other than himself. Realistically he has peaked with the PLP as far as he can go.
"That leaves you with Christie. He is old school, he is late, he is not able to put together a coherent thought nowadays but he can be manipulated. He can be a figurehead, when Christie's there they can do whatever they want to do."
If Mr Christie does stay on as leader of the PLP and wins the next election, it would mark his third, non-consecutive term in office placing him the same league as his predecessor, Mr Ingraham.
Dr Minnis last week told The Tribune that if he is elected leader of this country, he would advocate for term limits for prime ministers. According to the Killarney MP, this would ensure that the country evolves with the best interests of Bahamians as a priority.
"It should only be two terms and then out after that," Dr Minnis said. "This has always been my position simply because everyone reaches a certain level when they would be maxed out, suffer from brain drain and become stagnant.
"If someone remains in office for let's say 20 years, they can only take you to a particular point," Dr Minnis added. "Yes, you might have advisors and persons on your team who know how certain things should be done, but the point is that occupying the office for long periods of time won't be effective. With that, you also see situations where people think that they own the country and are less inclined to work in the best interest of Bahamians.
"A maximum two terms in office would allow the generation of new ideas, new views and keep this country moving forward."
To survive in politics for the past 40 years, as Mr Christie has, you need to have more than strong oratory skills, a wide smile and the adoration of inner city voters. You need to have that unteachable, enigmatic personality that inexplicably draws people to you in spite of themselves.
Whatever his leadership flaws and failings in government may be, Mr Christie has cultivated a cult of personality, a cult that appears to be so strong that no one in the party dare emerge as a public rival.
However the strength of Mr Christie's political armour will be tested over the next three years. If his government is not able to get a handle on the worrying crime problem, further curtail unemployment and prop up the stagnant economy it is unlikely that his charisma and ability to connect with PLPs and voters will help him.
But the question is, who in the PLP will be willing to emerge from Mr Christie's shadow and take over?