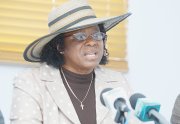 By AVA TURNQUEST
Tribune Staff Reporter
aturnquest@tribunemedia.net
SCORES of teachers received free textbooks and related materials last week as private sponsorship facilitated by Urban Renewal (UR) soars.
Cynthia "Mother" Pratt, UR co-chair, said the organisation plans to move distribution into "hot spot" areas in a bid to alleviate back-to-school financial pressures on inner-city families.
She said: "People are realising the importance and coming and donating their time.
"We had a lot of teachers, social workers, who came to volunteer, a lot of persons came from the community. They are helping to touch lives, that's what I feel so good about."
Mrs Pratt said: "What we're about to do is because we have another shipment on the dock, we're going to go into certain hot spot areas where we can set up tents and parents can come and collect books they need for the new school year. The most important thing here is trying to relieve the pressure of many parents who have to purchase textbooks to get their kids ready for school."
Organisers distributed more than a thousand textbooks to teachers from all sectors in the country at Mable Walker Primary school on Saturday, Mrs Pratt said.
"There were quite a few schools out (Saturday). We had home-based, government and private schools," she said.
"We had persons from Fort Lauderdale, Ron and Diane Caccatore. They were in town helping to give books out to the teachers starting for the new school year. From kindergarten to high school, teachers came out and selected books they need in all subjects. There were also things like atlases, homework journals, furniture, desks and chairs for classrooms, teacher's guides."