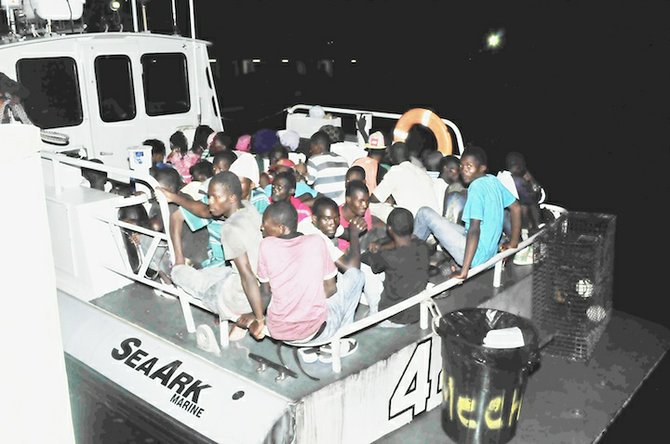 THE Royal Bahamas Defence Force arrested 76 Haitian migrants on Friday after receiving intelligence from OPBAT.
OPBAT, or Operation Bahamas, Turks and Caicos, is a combined US Coast Guard, DEA and Bahamas partnership to combat drug smuggling to and from the Bahamas.
Officials said that a Haitian sloop was sighted shortly after 5pm on Friday afternoon in the area of Belle Island, in the Exuma chains.
RBDF officers found 65 men and 11 women on board.
"The Haitian nationals did not possess the necessary documents to enter the country, and were subsequently taken into custody," the RBDF said in a statement released yesterday. "They were removed from their unsanitary vessel, taken aboard the Defence Force crafts and arrived in the capital Friday night."
Immigration Director William Pratt yesterday said the group will likely be repatriated to Haiti next week Tuesday.
He said there are currently 260 illegal immigrants housed at the Carmichael Road Detention Centre. He said the Centre can house a maximum of 400 people.
"It looks like because of these holidays that we can't get them out until Tuesday," he said. "We are trying to arrange to charter flights into Port au Prince."
Mr Pratt said 13 Cuban immigrants were taken to the Detention Centre on Sunday after being picked up by the US Coast Guard near Cay Sal.
He said there are now 18 Cubans in the holding facility.