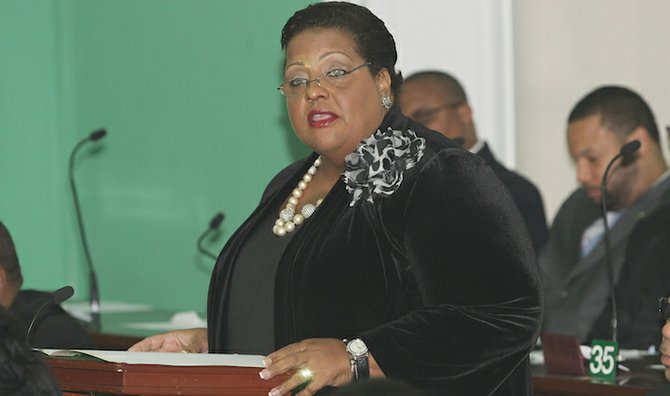 Reader poll
Dr Hubert Minnis 44%
Loretta Butler-Turner 36%
Dr Duane Sands 5%
Hubert Ingraham 9%
Other 6%
391 total votes.
By TANEKA THOMPSON
Tribune News Editor
FREE National Movement Deputy Leader Loretta Butler-Turner last night said she is considering running for the leadership of her party, adding that she has been inundated with support from people asking her to vie for the FNM's top position.
Mrs Butler-Turner said while she has not made a decision on the matter, she has not ruled out the thought of challenging FNM Leader Dr Hubert Minnis for the party's top post whenever the party holds a convention.
"Quite frankly, I have been weighing my options recently," she told The Tribune.
"I have not made any decision regarding it, but a lot of people have asked me about it so in that regard I would certainly give it consideration."
She added: "Like anybody else, I think we all evaluate if we can do more and if we can do something different and I think the only other post for me would then be a consideration of if I would challenge for leader. While I haven't made that decision, certainly I would not rule it out at this time."
A leadership race within the FNM is likely to occur at the party's next convention.
According to the party's constitution, a convention must be held every two years. The FNM's last convention was in 2012.
Mrs Butler-Turner said it is still unclear when the party will hold another convention.

"Leadership in a democratic organisation is only changed during a convention and to the best of my knowledge, even when we sat in council last week, the party has only just decided to put convention as a topic on the conversation for June, so I'm not sure what's going to be decided," she said.
In February former FNM Senator Dr Duane Sands said he is considering challenging Dr Minnis for the leadership.
Mrs Butler-Turner expects others to join the race once a convention date is announced.
"A lot of people are asking to have a convention and I think should the party be in the position to have one, then you will see a lot of movement (with) people positioning themselves for an opportunity, not just leader."
She added: "I'm sure that anyone going for any major post will weigh the pros and cons. I wouldn't rule anything out. Whenever there seems to be discontent, people's aspirations and ambitions are heightened."
Mrs Butler-Turner said she does not think her gender will be an issue with voters if she decides to contest for the FNM's top post.
"I think that people are becoming less gender centric and looking more for people of ability, for people who have proven themselves to be I guess a leader," she said. "I certainly think in this environment in which we live today, you look around globally and see the moves with trying to position women and bring greater equality.
"I would hope that we are certainly thinking in a 21st century mind where male or female it shouldn't make a difference."
She added that having a woman as the head of a major political party would be a "huge break through" in the Bahamas.
"(In) the major political parties I can emphatically state that the highest position that any woman has held has been that of deputy leader, it would be a new trail blazed if that were to happen," the Long Island MP said.
Last week FNM Chairman Darron Cash told The Tribune that he would put questions to the FNM's central council about the date for a new convention. He said he could not confirm an official time line for the event because it is the responsibility of the council to decide.
When asked why party officials have said very little of convention plans this year, Mr Cash said the FNM has been too focused on the Christie administration's lacklustre performance to prioritise internal party politics.
However party insiders have said there has been considerable agitation among FNMs who want a convention now.