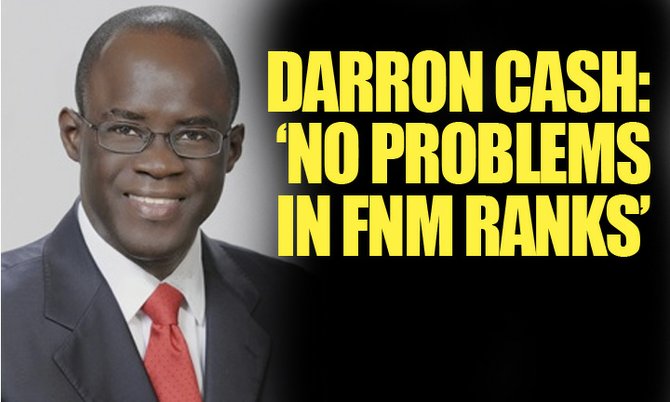 Reader poll
Dr Hubert Minnis 44%
Loretta Butler-Turner 36%
Dr Duane Sands 5%
Hubert Ingraham 9%
Other 6%
391 total votes.
By SANCHESKA BROWN
Tribune Staff Reporter
sbrown@tribunemedia.net
FNM Chairman Darron Cash said yesterday that expected leadership challenges against Dr Hubert Minnis have not affected harmony within the party.
However, Mr Cash stressed that there is no vacant position for leader in the party, despite at least two FNM members expressing interest in the post.
On Monday FNM Deputy Leader Loretta Butler-Turner told The Tribune she is considering running for leadership, but has not made a firm decision on the matter. Earlier this year, FNM Deputy Chairman Dr Duane Sands also said he is considering challenging Dr Minnis for leadership of the party at its next convention.
Speaking with reporters outside of Cabinet yesterday, Mr Cash said unlike the current government, the FNM welcomes challenges within the party – as long as a position is available.
"As chairman of the party my answer is very direct but there is no vacancy for the position of leader in the Free National Movement, but
unlike the PLP we are an organisation where people who are interested in running for leadership can state unequivocally that they have ambitions," he said.
"Also for the record, 'I am thinking about it, I am giving it consideration because people have been asking for it' is tantamount in my book as chairman as 'I am running for it'. But if it were the PLP, where they all know the leader is off his game, getting tired and ought to pack it up, no one has the courage to say they are interested in running because they know they will get their head sliced off before the first words even come out."
When asked if the expected leadership bids have affected the harmony in the party, Mr Cash said it made the FNM stronger.
"We encourage the expression of differing points of view," he said, "now is the time for us to be at odds and debate the issues and then when we become the government we will move in one accord. Not like the Christie administration that believes it is necessary for four or five ministers to say five different things. You can debate as much as you want until you get elected."
During an interview with The Tribune, Mrs Butler-Turner said she has been inundated with support from people urging her to make a bid for FNM leader. She said while she has not made a decision on the matter, she has not ruled out the thought of challenging Dr Minnis.
"Quite frankly, I have been weighing my options recently," she told The Tribune.
"I have not made any decision regarding it, but a lot of people have asked me about it so in that regard I would certainly give it consideration."
"Like anybody else, I think we all evaluate if we can do more and if we can do something different and I think the only other post for me would then be a consideration of if I would challenge for leader," the Long Island MP added. "While I haven't made that decision, certainly I would not rule it out at this time."
In February former FNM Senator Dr Duane Sands said he is considering challenging Dr Minnis for the leadership.
When contacted yesterday Dr Hubert Minnis offered little comment.
When asked to respond to Mrs Butler-Turner's statements, he said: "I am focused on moving the party forward."
A leadership race within the FNM is likely to occur at the party's next convention.
According to the party's constitution, a convention must be held every two years. The FNM's last convention was in 2012.
Mrs Butler-Turner said it is still unclear when the party will hold another convention.