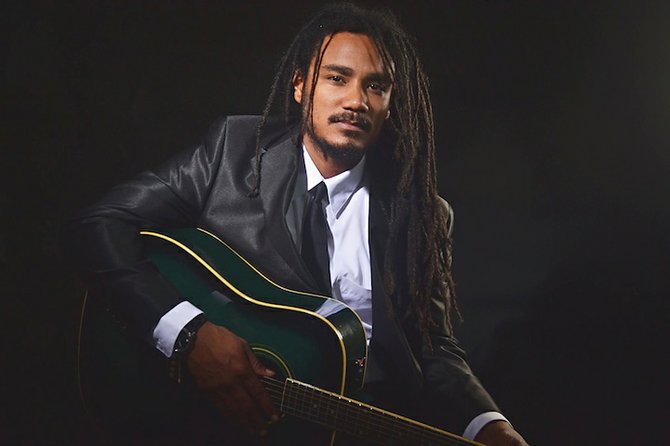 By LESH
Tribune Features Reporter
acadet@tribunemedia.net
FOR well-known Bahamian soul musician Irate the development of his newest compilation project started with just a simple rock guitar riff.
He told In Ya Ear that the style of the music on the new "RockStar Riddim" project is something different than he has produced previously; something that he has wanted to try for a while.
Irate said he wanted to fuse a rock style with his acoustic reggae style to give this particular composition a very unique sound.
The 'Riddim' comes from Irate's newly formed Rising Sun Records label.
Irate's musical journey first began when he graduated high school. He said his friends at that time were interested in rapping and playing the guitar, and this is what sparked his interest in playing musical instruments.
Just last year, Irate won over music lovers in the Bahamas with the "Stand Tall Riddim" medley that featured songs including Irate's "Stand Tall", Peter Runks' "Brothers Keeper", DJ Counsellor's "Everything There Is A Season", DJ Chronic's "I'm From The Bahamas", and Jah Nyne's "Global Crisis".
The artists all celebrated positive messages with the video for the medley.
Irate said he expects the "RockStar Riddim" to be just as successful, as he has already been receiving great feedback since its recent release on social media and radio stations.
The seven artists featured on the "RockStar Riddim" include Peter Runks, Kay LaChelle, DJ Chronic, Duckie, Judah Tha Lion, J-Aura and Irate.
"As with my previous projects, my selection of artists was strategic, where I selected artists based on their style. Each artist has their own unique style, bringing diversity to the project, and this is why I chose these particular artists," Irate said.
He said they all recently took part in a release concert held at the Ibiza Bahama Beach Club that was very well received by the audience.
"To be honest, I was kind of nervous introducing such an 'outside of the box' style because trying something new is always chancy, but I always want to bring something new and fresh to the table when it comes to my productions. Even with my song on this project I tried a different style than what people would normally hear from me; I am rapping and singing," he said.
On this project, Irate said people can find R&B vibes as well as influences from reggae and rap. He said everything fused together perfectly.
"My song in particular is called 'Heart Breaker' and it is a song that tells a story about a girl who grew up going through mental and physical abuse and the path that it has put her on in life. It is basically a story line song," said Irate.
With Bahamian artists taking their music to a wider audience more now than ever, Irate said he sees "RockStar Riddim" as well as his past projects getting bigger and better.
"It is my hope to really take these mainstream because we have the talent to do so. However, make no mistake, even though I want to appeal to a wider spectrum of listeners, the songs I produce are for my Bahamian people. This is what we represent, 242 all day, everyday," he said.
And this is not they only new release by Irate. The artist preparing to launch two more projects later this year. The next project will be called "Freedom Riddim".
"I am also planning an all-Bahamian artists concert coming up at the end of June featuring all the artists that have performed on all the projects released thus far. People can expect an awesome concert and more music to come," he said.