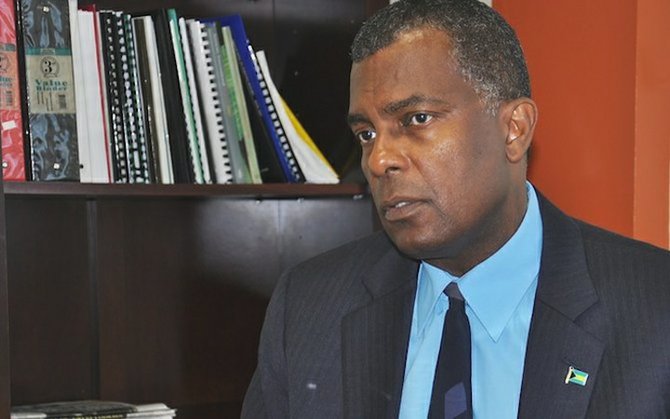 By KYLE WALKINE
Tribune Staff Reporter
kwalkine@tribunemedia.net
FOREIGN Affairs Minister Fred Mitchell yesterday accused Free National Movement Chairman Darron Cash of using the recent police search of his home and seizure of items as a political tactic to keep himself in the limelight.
Mr Mitchell said he "isn't moved" by the fact that Mr Cash filed a report against the government with Amnesty International over alleged human rights abuses in the aftermath of the search and seizure.
"It's a free society we live in," Mr Mitchell said when asked his thoughts about Mr Cash's complaint.  "He has the right to do whatever he feels is necessary to protect his reputation. As for how far he will get with this, I'm not sure. He's been at this for a while."
On Monday, The Tribune reported that Mr Cash filed complaints with the international human rights body over what he described as political persecution at the hands of the government.
According to Mr Cash, the Bank of the Bahamas, the government and the Royal Bahamas Police Force have "unjustifiably" associated him and his family with "whistleblower disclosures" made in the local tabloid, The Punch.
"I have specifically charged the government of Perry G Christie with violating several articles of the International Covenant on Civil and Political Rights (ICCPR)," Mr Cash said in a statement on Sunday. "The Covenant on Civil and Political Rights is rooted in the Universal Declaration of Human Rights."
Mr Cash also raised concerns about the warrant police produced to search his home. The FNM chairman said the document was signed by a justice of the peace, who was a religious preacher with no legal training. He charged that the practice should be eliminated immediately as it presented a loophole for "recklessness and abuse".
"As a general rule, justices of the peace have no legal training and truly represent the lowest bar possible when the police must seek permission and present justification for the search and seizure of citizens' properties," he said.
Mr Cash added that the warrant misspelt his name, and suggested that he was an employee of the Bank of the Bahamas and had possession of its assets.
"In the case of this national political party chairman this matter has emerged as a clear cut case of abuse of power," Mr Cash said.
Police searched Mr Cash's home early last month and seized two laptops and a smartphone. The items were returned to Mr Cash, but he has said he is afraid of using them for fear they may be outfitted with surveillance equipment. Mr Mitchell said he could not confirm Mr Cash's claims, but added that the FNM chairman is taking the situation as far as he can. 
"To me he's a politician," said Mr Mitchell. "He's trying to promote his interest. From what I read, it appears that all he's really doing is working on a political agenda. It's like he's just trying to promote something. Based on everything I've been reading in the papers, his story doesn't seem to be adding up."
The FNM has maintained that the search of Mr Cash's home was a political witch hunt. However, Prime Minister Christie and Minister of National Security Dr Bernard Nottage have refuted this.
Mr Mitchell is currently in Paraguay attending the General Assembly meeting of the Organisation of American States.