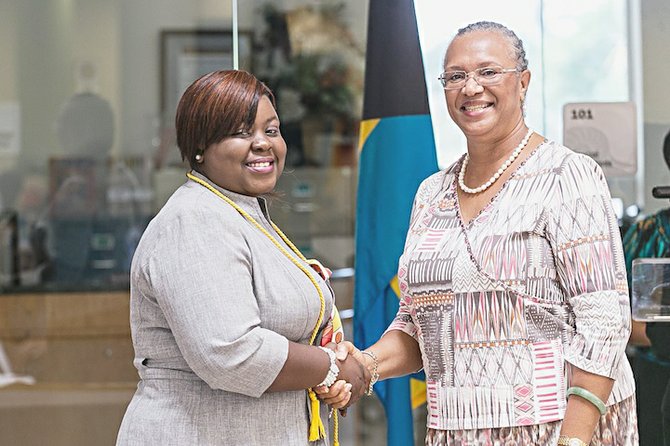 THE prospect of receiving an award for being academically exceptional was never at the forefront of Ricara Skippings' mind as she matriculated from her Bachelor of Business Administration (Accounting) programme at the College of The Bahamas (COB). She says she was simply following the sage advice of her mother.
Last week, when scores of high achievers of the college's 2014 commencement class were honoured during an awards ceremony, Ricara was leading the pack. She completed her programme with distinction, earning the top awards from the School of Business as well as the college's two primary honours.
"I really did not expect this because I actually was working to make my term grades and get a sense of self accomplishment and do my best in every course. I never thought about awards. That was never at the forefront of my mind," she said.
"My mum would always say, 'you are not competing with the person sitting next to you in the classroom, you are competing against the person sitting in China, Germany, Africa, New Zealand'. This is a global environment and if all you think you have to focus on is the person sitting in front of you, then you have big problems."
Ricara accepted the School of Business Award, donated by Fidelity Bank and Trust, and the Bahamas Chamber of Commerce's Award for Academic Excellence. Many other graduands were honoured in various schools – from Mathematics, Physics and Technology to English, Education, Communication and Creative Arts – for being high achievers.
COB's Acting President, Dr Earla Carey-Baines, commended them for their perseverance. "In the academic arena, they had set themselves apart as scholars and leaders worthy of accolades and emulation. We salute all of our award recipients, as these past years have not been easy ones. The achievement of a college degree is fraught with many tests and challenges. To succeed in college requires commitment, perseverance and sacrifice. You sit before us, not only because you have succeeded, but because you have excelled," she said.
Today, Randol Dorsett, is a partner at Graham Thompson & Company and Chairman of the Utilities Regulation and Competition Authority. But in 2001, when he was graduated from the College with an AA in Law and Criminal Justice, he was also recognised for his scholastic aptitude. He returned to his alma mater to deliver the keynote address to those being honoured, urging the men among them to be leaders in every facet of society.
"We need more men of excellence now more than ever. We need role models for our sons. Our young Bahamian sons must look up to you for guidance. They must emulate your quest for excellence and model themselves accordingly," he said. "When they are faced with the decision to follow the man who leads the gang on the corner and the student who attends COB, they must come to the realisation that to be a man is to know responsibility, to take care of one's self and to take care of one's home. To be a man is to be faithful to one's family, to be a man is to be a leader with a burning desire always to better one's self."
He also challenged the college to be the leading voice in The Bahamas to help solve the issues this country faces.
"The college and its academics must be the voice of reason in the midst of all the idle talk. When we consider national development plans, issues of taxation, the rights of citizens, issues relating to the environment, these are all issues (in which) the college must have a leading voice. The college must undertake and produce the research which must underpin the public debate."
In all, almost 70 graduating students were honoured for their academic excellence and leadership. Among them was Ashley Knowles, who earned an Associate of Arts degree in Music and is a member of the COB Concert Choir. He has travelled the world performing under the leadership of his mentor and choir director, Audrey Dean-Wright. Most recently, the college's choir performed at the Lincoln Centre for the Performing Arts in New York City. He expressed his appreciation for Mrs Dean-Wright's musical guidance enthusiastically.
"I have been prepared so well, it is like you are almost indebted because you cannot repay (Mrs Dean-Wright), or the Music Department, or the college for all I have learned in such a short time. When I travel internationally, people are surprised that I am only a second-year student completing an associate's degree. They are so pleased to see that this type of training is happening here in The Bahamas," he said.
At the awards ceremony, Dr Eslyn Jones, Vice-President of Student Affairs, presented a special award to Mrs Dean-Wright, an associate professor at the college, for her longstanding commitment to music and education at the institution.
"For over 18 years, this young lady has been training our students and giving us beautiful music at all our ceremonies and services. We thought it fitting to honour her today. This plaque is a small token of our appreciation for the hard work that she has done over the years," she said.
The college's 2014 commencement activities took place under the theme "A Legacy of Leadership: 40 Years of Educating The Nation."