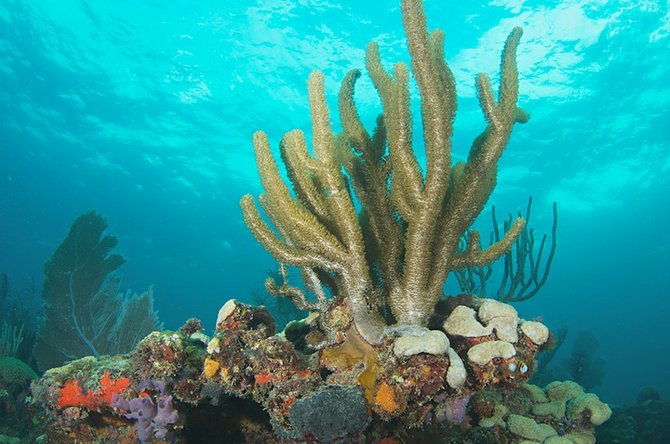 THE Atlantis resort on Paradise Island announced a new website for the Atlantis Blue Project, a programme dedicated to saving sea species and their habitats throughout the Bahamas and surrounding Caribbean seas.
By funding scientific research, conservation and education programmes, and community outreach efforts, the project seeks to help protect the waters and the marine wildlife in the Bahamas.
The new website, alantisblueproject.org, links the viewer to the underwater world in the Bahamas.
The site extends the organisation's reach, providing a window into the diversity of Bahamian wildlife, the country's conservation challenges and how people can help preserve these species.
The site features a wide variety of conservation work done throughout the Bahamas by Atlantis Blue Project partners, including the Bahamas National Trust, The Nature Conservancy, Bahamas Reef Environment Educational Foundation (BREEF), Bahamas Marine Mammal Research Organisation, Sea Turtle Conservancy, and Perry Institute of Marine Science.

Through projects that range from establishing and expanding national parks to conducting research on coral reefs, dolphins, sea turtles, and manatees throughout the archipelago, Atlantis Blue Project works to ensure wildlife is protected for future generations.

"This new website is a clearing house for what is happening in the marine conservation field in the Bahamas," said Debra Erickson, executive director of the Atlantis Blue Project Foundation.
"Our partners accomplish amazing things and this platform gives us the opportunity to share their success stories."
The website also features information about key Bahamian species, including sharks, dolphins, sea turtles, manatees, corals, and rays. These vignettes provide an overview of the biology of these species, threats they face, how Atlantis Blue Project conservationists are working to save them, and how anyone can join the effort to protect them.
The site aims to help people gain a better understanding and appreciation for the critical marine habitats such as mangroves and coral reefs, endangered species such as smalltooth sawfish and hawksbill sea turtles, and unique geological features, including the world's third largest barrier reef and one of the Earth's largest underwater cave systems.
Atlantis Blue Project's hope is for people to learn more about the Bahamas' marine wildlife and be inspired to help conserve one of the most unique places on the planet.
Atlantis Blue Project is committed to supporting environmental organisations.

The non-profit organisation receives its funding from guest donations at Atlantis.