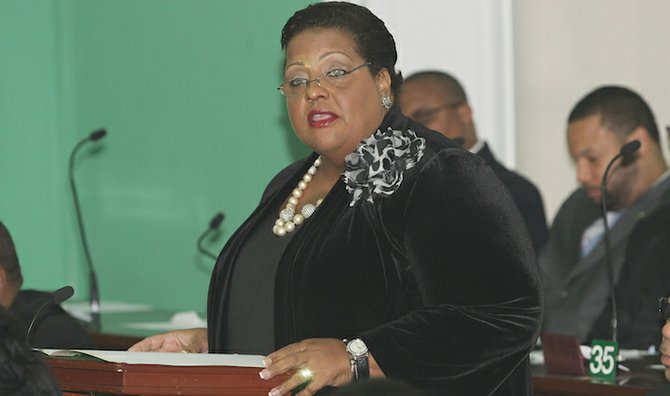 By KHRISNA VIRGIL
Tribune Staff Reporter
kvirgil@tribunemedia.net
THE appointment of board director Leon Williams to the post of CEO at the Bahamas Telecommunications Company is "nothing short of a major step backward", according to FNM Deputy Leader Loretta Butler-Turner.
Mrs Butler-Turner said yesterday that not only does Mr Williams' history speak for itself, but that Bahamians should be allowed to come to their own conclusions about his appointment through the full disclosure of documents regarding his departure from what was then BaTelCo.
Mr Williams was terminated by the former Ingraham administration in 2008 as the company's CEO and filed a suit against the government a short time later. In 2011, he and the government reached an out-of-court settlement over the matter.
However, more than a month ago, the FNM deputy raised concerns that BTC's executive level would see Mr Williams replace Geoff Houston, who served as CEO for the last three years. But the claims were shot down by BTC.
"Clearly my prediction as I said over a month and a half ago is accurate," she said. "It was clear that I pre-empted their plans. This is a plan to take the telecommunications sector backward because quite frankly it is going to be a sad day.
"My words are not personal, but Mr Williams does not demonstrate an ability to carry BTC forward as they enter a competitive era. If you look at the privatisation process there are documents that show why there was a separation between Mr Williams and BTC at that time.
"It would be interesting to see where he will pick up from. It was under his leadership that BaTelCo was in consultation with Blue Water. The Bahamian people deserve answers and a chance to see all the documents."
Bahamas Communications and Public Officers Union (BCPOU) President Bernard Evans praised Mr Houston for his work in the interest of BTC employees. He said the union expects the same good working relationship with Mr Williams.
Mr Evans said: "We have long agitated that we wanted Bahamians at the helm of BTC operations. While we enjoyed working with Mr Houston because he worked with us even in our reluctance to work with Cable&Wireless we look forward to working with Mr Williams. Anything less than his cooperation would be unacceptable. He has a tough job ahead and the union won't take it easy on him."
Mr Evans said the union will continue to push for better working conditions and benefits for workers along with a better product for Bahamians as BTC positions itself for future telecommunications competition.