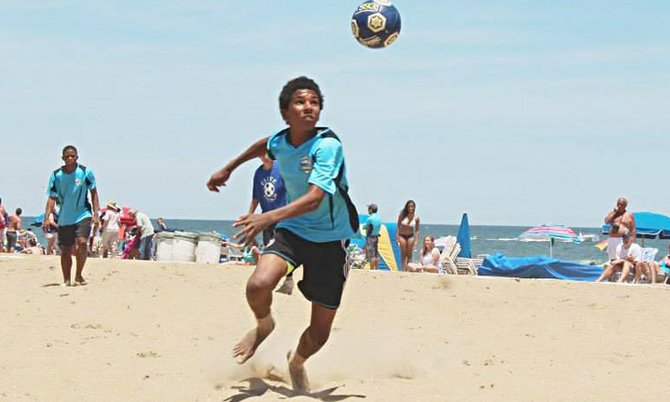 Quality Beach Soccer recently traveled to Virginia Beach last weekend to represent The Bahamas in the North American Sand Soccer Championships, June 6-8th.
The men's team competed in the US Open Pro/Am Division and the Under 16 Men's made their international debut against the top teams from across the United States and other international competition from abroad.
The men's team is currently top ranked in the Caribbean, and number six in the CONCACAF Region.
Senior team members included Ehren Hanna, Lesly St. Fleur, Alex Thompson, Dwayne Forbes, Perez Brooks, Gavin Christie, Mark Daniels, Christopher Davis, Gary Joseph, Cameron Hepple, Dominique Bannister and Bryan Kemp.
The NASSC is one of the largest Beach Soccer tournaments in the world, and fielded over 10, 000 participating players involved, and over 127, 000 participants in total.
Quality BSC's representatives said the event not only provided necessary exposure for the team, but the imperative competition they needed to develop their skills and show the international community what Bahamians can do on the beach soccer pitch.
"The Quality Beach Soccer program and all of it's members would like to send out a big thank you to all of our amazing sponsors who have helped the club to achieve many goals this past year, both at home and internationally," the group said in a press release, "The generosity of our many sponsors have allowed us to continue to reach new levels of play, host tournaments, hold beach soccer clinics for youth in the community, as well as represent The Bahamas in International tournaments – all of which could not have been achieved without the help of our sponsors. "
Sponsors include: Bahamas Football Association, Cable Cares Foundation Bahamas, Grant Thornton, Bahamas Local, Delucci, Sapphire Venture Fund, Physicians Alliance, 5ive Star Snorkeling, Davis & Co, Ehren's Grooming Center, Mogul- by Ehren's Grooming Center, Bahamas HomeAway, Stale-O-Force Pictures, Jams Printing, Phil's Food Service and other private sponsors.