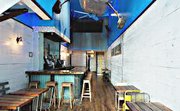 A NEW Bahamian restaurant specialising in gourmet lionfish dishes is making waves in the Lower East Side of New York.
Seven months ago noted restaurateur Ryan Chadwick opened his third restaurant, which he named after his favourite place in the world, Norman's Cay, Exuma.
"There is no place like it, the water, the people, the food, the atmosphere. It's the most wonderful place on earth," he said.
The two-storey, 46-seat restaurant is decorated with palm tree wallpaper, a 10-foot long taxidermied hammerhead shark and a 1966 Cessna Skyhawk airplane hanging from the ceiling.
Servers can be seen wearing "It's Better in Exuma" t-shirts.
Cocktails include Bahamian favourites like Sky Juice, Bahama Mama and Rum Dum.
Norman's Cay's lunch and dinner menus mainly feature Bahamian seafood dishes like conch fritters, fried snapper and grouper, lobster rolls, and even a lionfish entree.
"Lionfish is a detriment to the Caribbean ecosystem, but it tastes delicious," Chadwick said. He noted that his is the first restaurant in New York City to regularly offer the invasive lionfish species on its menu.
During Caribbean Tourism Organisation Week in New York, Mr Chadwick partnered with the Ministry of Tourism and the executive chef of Memories Resort in Grand Bahama, Devin Johnson, to offer a special menu for the momentous week.
Chef Johnson, the first Bahamian chef to cook at the restaurant, told the invited guests that it is indeed "delicious in the Bahamas too". He said that he was proud of the menu and excited for them to "dig in".
The menu, centred around the invasive species, featured an island-style lionfish cake, orange thyme-glazed Bahamian spiny lobster tail with lionfish mousaeline, and for dessert John Watlings rum raisin bread pudding.
It was the first time that many of the customers had tasted lionfish and he assured them that the fish had a delicate and sweet taste. Ratings have been favourable and many New Yorkers have already made Norman's Cay a regular dining choice.
The restaurant is located at 74 Orchid Street between Broome and Grand Streets in New York.