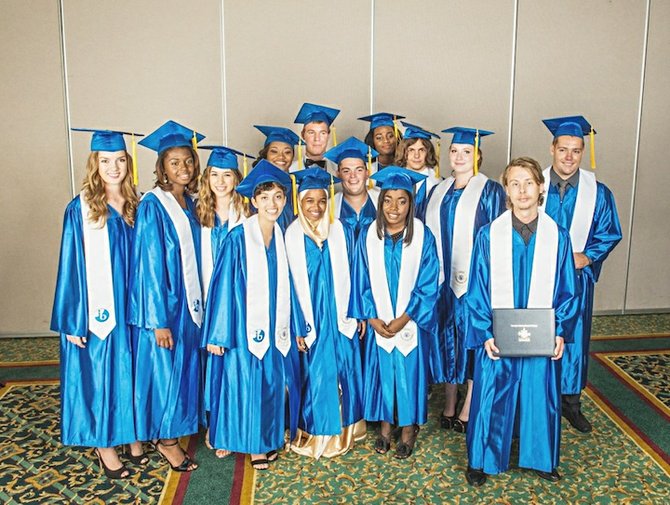 STUDENTS from Lucaya International School (LIS) are getting ready to head to universities across the United States, Europe and Canada after graduating from its International Baccalaureate Diploma programme.
Fourteen students were awarded their High School Diploma with Honours last week and a number received outstanding awards in the various subject areas, including class Valedictorian Michaela Ince and Salutatorian Keana Pakosh. The girls gave eloquent speeches to the audience of fellow classmates, parents, friends, faculty and school board.
"My time spent at LIS has made me a well-rounded, open-minded individual who is not afraid to face challenges head on," said Ince.
"This is something I will always be grateful for. No matter how challenging something may seem, there is no point in getting intimidated. High school has not only taught me academically, it has also taught me valuable life lessons".
She also received the Grand Bahama Port Authority (GBPA) Top Achievers Award, which grants her a scholarship to the college of her choice.
LIS is the only school in Grand Bahama to offer the signature IB programme.
"To schools, universities and colleges around the world, the IB is more than a curriculum and a testing service. It is a powerful experience in learning and growth; a way of life and shared experience that develops character and bonds students and teachers together in friendship and attitudes that will last a life time," said headmistress Sharon Wilson.
The graduates and universities they will be attending are: Alliqueka Capron (University of Nottingham, UK); Rhumer Culmer (University of Tampa, US); Keana Pakosh (University of Toronto, Mississauga, Canada); Alexander Thompson (Texas A & M Galveston, US); George McInnes (gap year); Alexander von Albedyhll (University of Groningen, Netherlands); Imani Sterling (University of Westminster, UK); Eric Grigorof (Ontario College of Art & Design, Canada); Cassandra Haddad (University of South Florida, US); Asiyah Robinson (Gulf Coast University or University of Victoria); Katie Hindley (Newcastle University, UK); Michaela Ince (Pomona University, US); Andrew Hindley (Liverpool John Moore's University, UK); Rania Williams (Michigan Technical University, US).