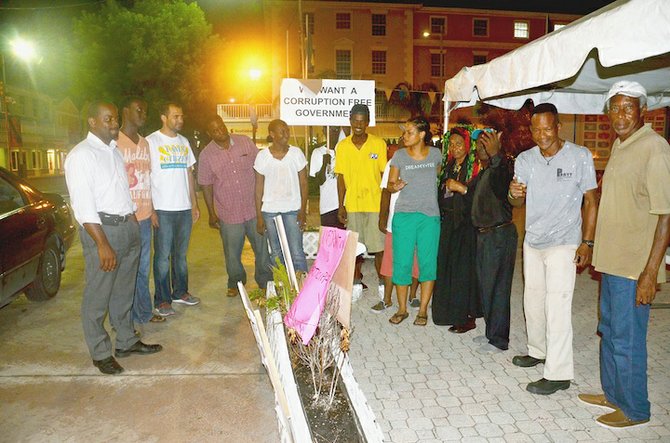 By AVA TURNQUEST
Tribune Staff Reporter
aturnquest@tribunemedia.net
PROTESTERS camped out at Rawson Square for a second night as the 48-hour occupation ends today.
The demonstration, led by Terneille Burrows of Bahamians Against Sexual Violence and Child Abuse, began on Wednesday following a protest for the prioritisation of revised Freedom of Information legislation.
Last night, Ms Burrows said "Occupy Rawson Square" had a core of ten participants, with numbers fluctuating as the night wore on. Core participants are from Citizens for a Better Bahamas and the Committee to Preserve the Bahamas for Bahamians, who will stage their own demonstration on the site today.
"The central theme is calling for transparency and accountability in governance," she said, "we want government to allow us to see their operations as they work for the Bahamian people. We would like to have more input and access to how the country is run."
Ms Burrows said the 48-hour protest was not advertised publicly because she felt it would not have been widely supported.
She said: "We didn't advertise it, I just put the word out to a few people that I knew would be up to doing something that had never been done. The Save the Bays (Freedom of Information) demonstration was advertised, with this everything was underground, grass roots."
"This is just one component of a list of actions that need to be taken to ensure that we are responsible citizens," she added. "I would like to thank the police for granting the permits, and would like to encourage police to allow Bahamian citizens to freely express themselves to politicians without being inhibited or prohibited in any way."
"I'd also like to thank the Bahamians that have been vocal in calling in to the radio stations, posting on FaceBook, and writing letters to editors. Not everyone can come out and protest, but anyone that is doing something is important. We just want them to unite in one voice which is to demand transparency and accountability."