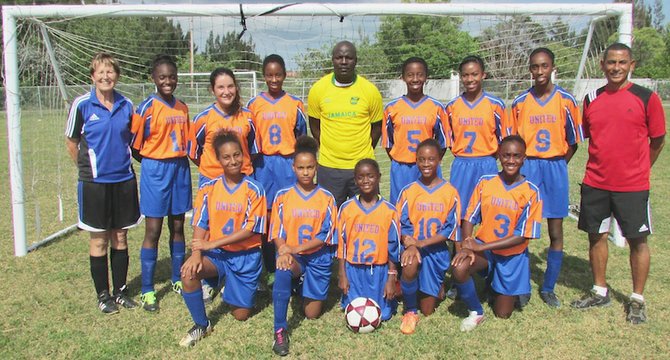 Coaches and parents from the Grand Bahama Girls' Developmental Soccer League will be taking a team of talented soccer players ranging in age from 11 to 15 years to Jupiter, Florida, for two full days of soccer this weekend.
The girls will play their first game against Port St Lucie on Saturday morning, June 14th at 9:30am and then will participate in a training session with director of the Jupiter Soccer Academy.
Their day will continue with a private session with the Club's speed and agility coach and will finish with a class on the importance of fitness and proper nutrition. A second game will be played Sunday and then they will attend a training session along with the U15 Florida State Championship runner-ups.
"Every session that we have set up for the girls while they are in Florida is designed to address the weaknesses we see as coaches," said coach Donnie Knowles.
"It is very important for the girls to get an opportunity to play games in the United States so we can see our progress. It allows our coaches to see where we have to improve, and the girls need to see that although they may be soccer stars at home, there are always girls their age who are better in other countries, in particular the United States. If they want to compete at the next level, either in college or at the national level, their intensity of training at practice and on their own needs to increase."
As a former school teacher, Coach Mary Knowles noted that she saw firsthand the constant battle parents had with their children in terms of drinking water instead of sugar filled drinks, snacking on fruits and vegetables instead of fast food and chips and playing outside instead of sitting on the couch with some type of electronic game.
"Some of the girls who attend our girls' league in October come to us very unfit. Our players need to understand that exercise should be part of their daily life and soccer training should not be the only exercise they get in the week.
"Fitness is something we struggle with every year so we are very happy that the girls will be attending a class on the subject while in Florida. Some of our team do swim or play tennis and their endurance is significantly better than the ones who do not engage in other physical activities other than soccer training."
"We are trying to make the girls more accountable for their own fitness," continued Coach Knowles.
"There are many things they can do to improve their strength and fitness. Floor exercises such as sit ups and push ups and cardio workouts such as skipping, running on a treadmill and step aerobics are some exercises that would make a difference if athletes do not have access to a running area or gym.
"A wealth of exercises to improve ball skills can be found on YouTube, which only requires six square feet of space or less. All of these activities would improve the soccer skill and health of the players but the parents and girls have to buy into this life style adjustment and this requires constant reinforcement and education, which we the coaches have to provide."
It is hoped that the sessions the girls get with the American coaches will reinforce what the local coaches have told them on how necessary hydration and proper nutrition are for maximum performance.
Coach Rohan Parkes commented on the importance of communicating on the field and feels that when the girls see play at the highest level in Florida, that it should spark them to follow suit. "The girls have to understand that instructing your fellow team mates is makes the team a more cohesive unit as it gives your team mates a boost by giving them another pair of eyes to watch the plays of the opposing team."
Soccer is not a part of the Bahamian culture like it is in places like Trinidad or Jamaica. Bahamians tend to follow American football and basketball on television so most girls do not grow up watching soccer, limiting their knowledge of high-level soccer.
"The more we travel to places where soccer is part of the culture, the more the girls will fall in love with the sport and eventually it will become part of our culture as well," said Coach Knowles.
"The mere fact that we have over 300 girls playing in the small island of Grand Bahama proves that soccer is becoming more popular."
The Grand Bahama league's success is evident through the support of all those involved – the players, the parents and the 32 volunteer coaches who have played a critical part in the island's soccer development. The Grand Bahama coaches are set to participate in a Level 4 and 5 NSCAA Coaching course in September.
After seeing the Grand Bahama girls play a game, Kevin Davies, assistant coach of the Bahamas U15 girls national team, commented that many of them were more technically sound than the girls who are trying out for the team in New Providence.
The team of girls traveling to Jupiter Florida has also been invited to try out for the Bahamas national team. Despite Davies' comment Coach Donnie Knowles stated: "We can never be satisfied with our level of play because we are still not winning when we travel outside the Bahamas. Even with our more advanced players so we have to constantly assess our methods of coaching and evaluate all aspects of the game if we ever want to see quality players in this country in our lifetime."
With the largest number of girls playing soccer in The Bahamas, the league officials feel encouraged to press on with their mission statement of becoming the model programme for soccer in the region.