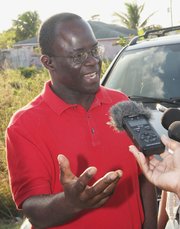 By KHRISNA VIRGIL
Tribune Staff Reporter
kvirgil@tribunemedia.net
FREE National Movement Chairman Darron Cash said yesterday that his wife, Annette, is exploring every available legal option to challenge the basis for her "petty and frivolous" termination from the Bank of the Bahamas (BOB).
Calling the action against his wife "unjustified and a politically motivated witch hunt", Mr Cash again raised questions of BOB's ongoing operations which he claimed were mind-boggling. Several new allegations regarding BOB have surfaced and Mr Cash insisted that they would be revealed by his party in due course.
Mr Cash's comments came in a statement to The Tribune in response to questions about speculation that Mrs Cash was preparing to sue BOB over claims of wrongful termination.
Last Monday, a memorandum was circulated to BOB staff, announcing that Mrs Cash, a human resources and training manager, was no longer employed with the bank. The memo, dated June 10, said the termination took effect on June 2.
In yesterday's statement, Mr Cash defended his wife's reputation.
"The basis of termination has nothing whatsoever to do with the leak of client or related information that The Punch has been carrying BOB to war over for the past year. And yes, I can confirm that my wife is exploring every available legal option for challenging the basis of this unjustified and politically motivated witch hunt and scapegoating exercise."
He did not say what reason the bank gave for terminating Mrs Cash.
Mr Cash suggested that the relevant authorities needed to explain a number of developments which took place at BOB over the past few weeks.
He said that, in addition to his wife, BOB also fired another manager.
"What does it say about BOB and this government that the only persons who lost their jobs were (a senior manager)... and the manager for human resources whose husband happens to be the chairman of the FNM and an outspoken advocate for full investigations into the BOB allegations?  
"It also boggles the mind that for a bank where the Prime Minister and Minister of Finance have argued that 'all is well' it has been almost an entire year after the bank's financial year ended on June 30, 2013, and BOB has yet to announce the date for the bank's annual general meeting," Mr Cash noted.
"In that regard... why is it that having failed in its obligation to report to shareholders at an annual general meeting, the managing director can reportedly be on extended leave from the bank for weeks on end?"
Mrs Cash was suspended in May, reportedly pending the outcome of an ongoing investigation at BOB into leaks of confidential information.
Last month, Mr Cash said his wife never had any access to BOB's client information and never divulged company information to him.
Mr Cash has repeatedly raised concerns about operations at the bank over the past few months.
The government released several statements earlier this year that said the bank's position was secure. The statements came after The Punch published a series of reports that claimed loans were awarded based on political favouritism. The bank has said it will take legal action against The Punch.
In early May, police searched Mr Cash's home and seized two laptops and a smartphone that belonged to him. The search and seizure was reportedly in connection with the investigation into leaks of sensitive information from BOB.
The items have been returned to Mr Cash.