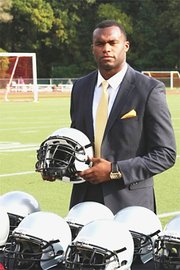 By RENALDO DORSETT
Sports Reporter
rdorsett@tribunemedia.net
AFTER turning his focus away from professional football, Myron Rolle has now shifted toward a life of scholarly achievement and philanthropy.
Last week marked the official launch of the Myron L Rolle Foundation's Wellness and Leadership Academy, Bahamas edition.
"I always tried to put maximum effort in the classroom because I felt that would open so many doors for me after that temporary life of playing football and being a professional athlete would go. Once it did leave, after three years playing in the NFL, I had to look for another opportunity, I had many doors to walk through, one of which was neurosurgery and that's what I'm doing right now. I feel like all the decisions I have made were done with this idea that I have to see in the front of me. I could not be paralysed in the moment, be shortsighted in the moment or what's happening today because tomorrow may present a new challenge and I always want to make sure that I'm ready for that challenge," he said. "Having vision is an incredibly important aspect of my journey. Proverbs 29:18 says 'Where there is no vision a people will perish,' so I feel like when you have vision you can see where you want to go, what you want to do in the future so the decisions you make today need to behove who you want to be 10-15 years from now."
The foundation will host 25 future leaders from children's homes throughout the capital at the Adventure Learning Centre July 13-17 under the theme "Rediscover Your Ability to Dream."
Rolle, the former Rhodes Scholar and now a first-year student at the Florida State University College of Medicine, said the launch of the programme in the Bahamas was the natural progression following its success in Florida. He partnered with the Florida Department of Children and Families and the Florida National Guard in 2009 to host the first Wellness and Leadership Academy for 100 foster children ages 12-14 in Starke, Florida.
"After these five days, we don't want that momentum to end," Rolle said. "We want them to have fun, be excited, enjoy themselves, meet cool people, but after that they will not be lost and forgotten. What we are doing every month we are going to partner with the College of the Bahamas and every month these young people will go to COB and be a part of COB's mentorship programme. I think it provides some continuity, provides some lasting impact on the lives of these young people."
Rolle was selected by the Tennessee Titans in the 2010 NFL Draft. In 2012, he signed with the Pittsburgh Steelers and announced his retirement from the NFL in 2013. "It was very tough to walk away from the game. Having the opportunities, it did provide a sense of security but at the same time I have played football since I was six-years-old. I was fortunate enough to play at a very high level and it shaped everything I did. It shaped what I ate, who I hung out with, what I wore, what I looked like physically, so to one day to be faced with the decision to cut it off and move on with another career, that was a process that was very difficult. I felt once I got into medical school and I started getting deeper into my curriculum and studies, because it consumed so much of my time and I was not able to think about football anymore so I stopped missing it after a while," he said.
Rolle, the son of Bahamian football icon Whitney Rolle - a founding member of the Pros Football Club - said he will still use the game that has garnered international acclaim to impact the lives of young Bahamians.
"Any way that I can provide value and assistance to the young people of this country, through football or other means, matters to me and something that I would do. The Wellness and Leadership Academy is something that's proven, modelled, it works and we know it can be effective and that is why we want to do it right now. In the future if there is a way that I can help to develop the American football culture here, the educational system, the health system, it is something that I will pursue."
The academy will be sponsored by Coca-Cola with support from the Ministry of Youth, Sports and Culture along with the Ministry of Social Services and Community Development. However, corporate Bahamas is encouraged to get involved.