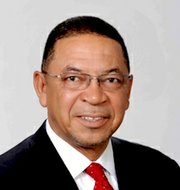 By KYLE WALKINE
Tribune Staff Reporter
kwalkine@tribunemedia.net
HUBERT Chipman, FNM Shadow Minister for Foreign Affairs, said he is curious as to when The Bahamas will get an answer, if any, on the alleged recording of cellphone conversations by the US National Security Agency (NSA).
Last Tuesday Foreign Affairs Minister Fred Mitchell said that US Secretary of State John Kerry had stepped in to deal with the matter and that a report into the accuracy of claims that Bahamian phone calls are being recorded would be handed over within seven days.
Yesterday marked the seventh day, however, Deputy Prime Minister Philip Davis told The Tribune that as far as he knows, no report had been given to the Bahamas as yet.
Mr Mitchell was out of the country yesterday attending the 8th UK-Caribbean Forum in the United Kingdom.
"I'm hopeful that we get an answer," Mr Chipman said, questioning if the US would ever give a confirmation or denial that the NSA is using a programme called SOMALGET to intercept, record and possibly store for up to 30 days the cellphone calls made in the Bahamas.
"According to what the minister said last week in the House of Assembly we should be getting some type of a report from the US Embassy in a week's time. I only can wait to see what's going on with that."
On Thursday, June 5, Mr Mitchell said the matter had been "dealt with" and promised to give a full report on the matter in Parliament.
However, when he spoke in the House of Assembly last week, the Fox Hill MP said the government is awaiting a full report from the American authorities on the claims.
Yesterday, Mr Chipman voiced concerns with Mr Mitchell's handling of the spying allegations.
"To be honest, when you look at it, Mr Mitchell went away when all of that came about. I personally thought he should have been the one initiating the contact between the Bahamas and the US. However, he chose to use the Bahamas' representative in the US, Eugene Newry, in order to deal with it later on."
"Then he went to the Organisation of American States (OAS), which I didn't understand at that time. I thought that he should have done that a long time ago."
According to international reports, the government's American lawyers from the firm Hogan Lovells have been directed to give advice and representation to the Bahamas government on "general diplomatic representation and foreign policy matters, US laws, regulations, policies and actions by US Congress, Executive Branch and US government agencies that may affect or relate to the activities and interests (of The Bahamas), including but not limited to surveillance and privacy matters ..."
The website cites a federal disclosure document from the US Department of Justice, which The Tribune has seen, which was reportedly signed on May 30 by Hogan Lovells. The firm has represented the Bahamas for 41 years.