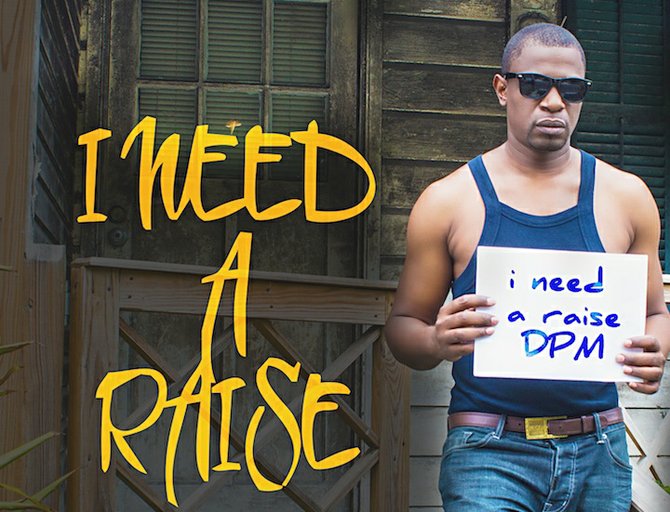 By FARAH

Tribune Features Writer
jgibson@tribunemedia.net
THE ISSUE of Bahamian Parliamentarians receiving a salary increase struck a nerve with local musician Mr J, who weighed in on the controversy with a new song, "I Need A Raise".
The song is a direct response to comments made by the Deputy Prime Minister Phillip "Brave" Davis, who last month said that Parliamentarians should receive "more money to curtail the temptation of doing things that are not right."
Mr Davis told a reporter that: "Because if they (MPs) are earning a living by doing this, then there would be no need for them to do anything else; I think that's what the Bahamian public has to understand."
However, Mr J, who teamed up with Bahamian entertainer TaDa for the single, is saying "no way" to the Deputy Prime Minister.
"At a time when the economy of the Bahamas is in a slump, unemployment high, crime rampant and the national debt at an unprecedented level of nearly $5 billion dollars, politicians from both sides of the divide have agreed on increasing their salaries, while the dying middle class and poor are suffering beyond what any politician can empathise with. They have instead justified their callous actions by claiming that an increase would remove the temptation of doing things that are not right," the singer said.
Mr J hopes "I Need A Raise" sends a clear message to Parliamentarians. He said it is of extreme importance for those who sit in Parliament to prioritise finding solutions to the societal ills faced by all Bahamians instead of seeking more money.
In the song, Mr J responds to the issue by changing the role of the politician to that of a worker who is requesting a raise from his employer.
" 'I Need A Raise' focuses on the lack of concern in the face of economic hardship, coupled with very slow improvement in economic activities. During times of depression, wise and prudent governments would seek ways to reduce unnecessary spending, lower the cost of living in order to stimulate and encourage consumer spending, exercise pay cuts where possible and inculcate a culture of personal fiscal responsibility in individuals. The song depicts an opposite mentality and behaviour, which is certain doom by an all-for-me baby mindset," Mr J said.
"Careless statements (such as Mr Davis') breed an atmosphere of justification and entitlement, which has the potential to increase the level of crime in a society, confuse the judicial system, spark serious violent situations, including murder, and cause anarchy to arise. The implication of such a remark is indeed troubling, as it would seem to be an apparent admission of knowledge of wrong-doing with impunity," he said.

Mr J, who is gospel musician, said he intends for his music to help people make sound decisions. This is not the first time he has used music to weigh in on the controversial issues impacting the country.
Earlier this year, he launched his "No VAT" campaign to support others who share the sentiment that the implementation of VAT will negatively impact the pockets of Bahamians.
Mr J started his personal campaign against VAT late last year. He also shot a music video for the song which has been making the rounds on social media. Mr J's "No VAT" song is currently on rotation at all the major radio stations.
"I Need A Raise" can be downloaded from sites such as iTunes, CDbaby, Spotify, and can be requested on all local stations.