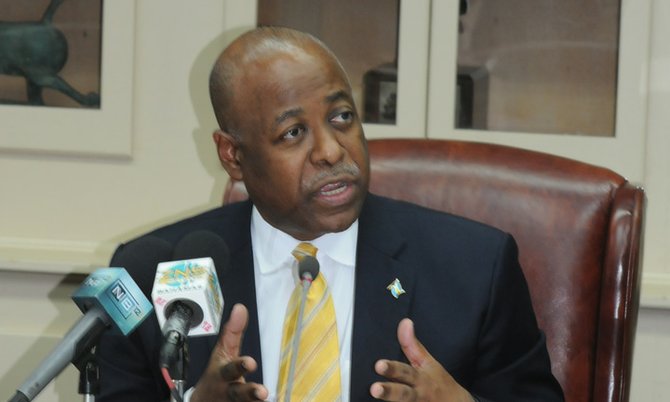 By KHRISNA VIRGIL
Tribune Staff Reporter
kvirgil@tribunemedia.net
TOURISM Minister Obie Wilchcombe yesterday confirmed that the much anticipated legislation to regulate the webshop industry will not be tabled this week in Parliament as expected. 
The regulations to govern illegal numbers houses were expected to be tabled in the House of Assembly on Wednesday and debated the following week. However, Mr Wilchcombe could only say that the Gaming Bill "will come soon".
That delay, said Robert "Sandy" Sands, the senior vice-president of external and governmental affairs at Baha Mar, is disappointing.
"We are indeed disappointed and it is our wish for the Bill to come soon. The quicker it comes, the quicker the benefits can accrue for casinos and the Bahamas in general," Mr Sands said.
Attorney General Allyson Maynard-Gibson left the country yesterday to consult with the Financial Action Task Force (FATF) and the government expects her to give an update of the meetings by Wednesday, Mr Wilchcombe said.
The FATF, he said, will review the Christie administration's final legislation and give feedback on whether there are sufficient mechanisms to prevent possible money laundering and black listing.
He said: "The government wants to make sure that this Bill can stand up against scrutinisation. By and large we have finished the legislation, but Prime Minister Perry Christie has asked us to ensure that all of the I's are dotted and the T's are crossed. Because the truth of the matter is we cannot afford to be black listed or be marked as a country of money launderers and jeopardise the regime already in place that governs casinos in the Bahamas.
"So yes, as the Attorney General is leaving today to meet with the FATF, the Bill won't be brought to the House on Wednesday.
"I know everyone wants to know when it'll come, my answer to that is it will come soon."
Last week, Mr Christie hinted that the Gaming Bill would be delayed because the government was close to settling serious issues. He revealed that a leading bank – the Royal Bank of Canada –  had communicated an unwillingness to engage casino operators under the new regime.
He said: "The initial position of the Royal Bank of Canada, the government's banker, is that they don't want to be a part even with the casinos as well. They don't want to be a part of this new regime of the casinos, so that's why there is no doubt about my having to act. You can argue with me that I broke my word (on the 2013 gaming referendum), but my word becomes secondary to the concerns of the country."
Last week, Mrs Maynard-Gibson told the media she was confident that proposed web shop regulations would be supported by the banking industry.
Mrs Maynard-Gibson said it was expected that the regulations would stand up to international scrutiny on anti-money laundering and counter-terrorism financing guidelines.