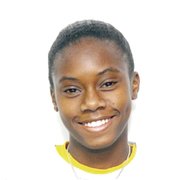 By BRENT STUBBS
Senior Sports Reporter
bstubbs@triobunemedia.net
DEVYNNE Charlton scored in a pair of events to help the Purdue University Boilermakers wrap up the Big Ten Conference Championship meet on Saturday as the women had a total of 53 points to join the men's fifth place finishers.
The men got 61 points.
Charlton, one of two Bahamian freshmen for the Bahamian-led coaching staff, took eighth in the 60 metres dash with a time of 7.52 seconds. That time is the third fastest in Purdue history and just 0.02 of a second behind teammate Twyla Winfrey's second place time posted earlier this year.
It is the first time the women have scored in the 60m dash since 2008.
Charlton, whose parents Dave and Laura Charlton were in the stands for the meet, also scored in the 60m hurdles where she took fifth with a time of 8.36 seconds. That time is 0.01 of a second off her PR.
Ciana Tabb also scored in the hurdles with an eighth-place time of 8.47 seconds. They were the first Purdue women to score in the hurdles since 2009.
The Boilermakers, coached by Rolando 'Lonnie' Greene and Norbert Elliott, are hoping that Charlton will secure her berths in both of her events at the NCAA Indoor Championships in Albuquerque March 14-15.
The NCAA takes the top 16 in each event.