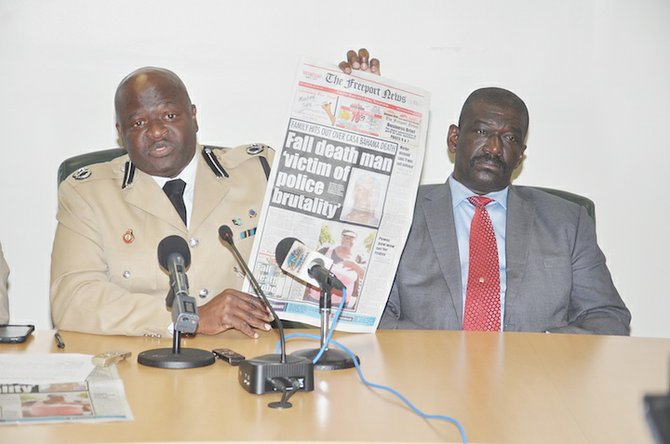 By DENISE MAYCOCK
Tribune Freeport Reporter
dmaycock@tribunemedia.net
GRAND Bahama's Police Chief is taking grave exception to a headline article carried by a local newspaper on Wednesday regarding suggestions of alleged police involvement in the death of a man at Casa Bahama, and is calling for an immediate retraction.
Asst Commissioner of Police Emrick Seymour says suggestions the man's death is as a result of police brutality is irresponsible reporting.
"It is absurd, obnoxious, and inappropriate," he said of the Freeport News headline "Fall death man 'victim of police brutality'."
"I have called the editor of this daily and voiced my concerns in this report and asked for a complete retraction of this headline," Mr Seymour said. He indicated that the Royal Bahamas Police Force's reputation is at stake and the organisation is prepared to take action if the headline is not retracted.
Mr Seymour said he wants to clear the air and set the record straight.
He said that on March 3, shortly before 9.30am, police received information that the body of a male was found on the grounds of Casa Bahama.
Officers were directed by the caretaker of the building to the body of Delano Frantz Dorval, 25, of Arden Forest.
"The caretaker of the building pointed out a smashed front entrance glass door to the building. Further checks by police and caretaker revealed that a room and balcony door on the six floor of Casa Bahama was found opened," said Seymour.
Doctors from Rand Memorial Hospital pronounced the man dead at the scene.
ACP Seymour said an autopsy has been performed.
"Contrary to what was implied in the newspaper article, I wish to advise that on February 19, the police had reason to arrest the brother of the deceased, Deangelo Dorval, on an unrelated matter. He was later released from custody, some two days later, pending further police investigation," he explained.
Upon his release, ACP Seymour said Deangelo Dorval filed a complaint of alleged police brutality at their Complaints and Corruption Unit. That matter is under active investigation, he said.


Mr Seymour said the death of Delano Dorval and the arrest of his brother, Deangelo Dorval, were two separate incidents and had nothing to do with each other.
"So the suggestion of a mistake in identity is trivial, baseless, and vexing to say the least," he said. "Further, to suggest that this death is as a result of police brutality is irresponsible reporting on the part of this journal and should be retracted forthwith, as there are no bases or merit to this claim."
ACP Seymour expressed condolences on behalf of the RBPF to the family. "It is so unfortunate that a life has been lost in such a manner," he said.