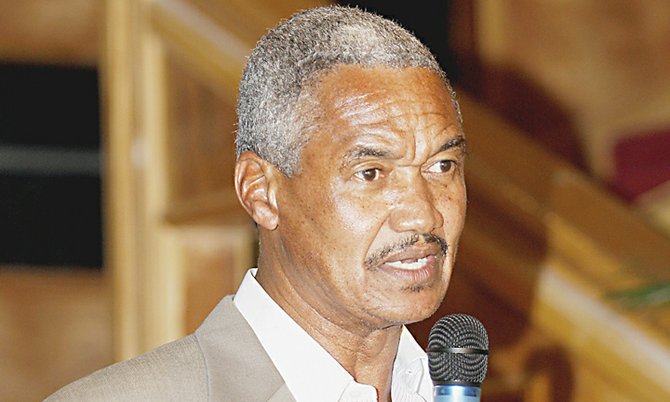 By AVA TURNQUEST
Tribune Staff Reporter
aturnquest@tribunemedia.net
THE Bahamas Crisis Centre yesterday criticised parliamentarians for making "a mockery of domestic violence" following comments by Leslie Miller in the House of Assembly.
In the absence of a unanimous rebuke from MPs of Mr Miller's remarks in which he suggested he beat his girlfriend – comments he later said were in jest – the crisis centre charged that MPs have reaffirmed harmful abuse strereotypes.
The statement said: "The Bahamas Crisis Centre finds it very disturbing that members of parliament collectively made a mockery of domestic violence in the House of Assembly. Comments made by the Member of Parliament Leslie Miller about domestic violence were in very poor taste, and so were the actions of those members of parliament who found the comments amusing.
"The actions of our leaders only served to reaffirm the dysfunctional thinking that women like abuse and like to be beaten. The fact that women sometimes stay in abusive relationships depends on a range of factors, including: fear, financial dependence, lack of self-worth, shame, traditional thinking, lack of support resources, and societal apathy. Added to this, the abuser often minimises the abuse to further confuse the victim.
"Research shows that women often leave and return to abusive relationships seven times before they leave for good. There is nothing funny about domestic violence and we as a society must create a supportive environment for women as they wade through the various issues that keep them trapped."
Mr Miller, MP for Tall Pines, came under fire this week following the publication of his comments in the House of Assembly in a local daily.
At the time of his comments on February 20, Mr Miller said he was criticising the FNM for what he described as them not looking out for the best interests of fishermen while they were in government. He said he likened the previous Ingraham administration's relationship with fishermen to a woman being abused.
He said: "That's like beating your wife or your girlfriend every time you go home. You just beat her for looking at her. I love you. Boom, boom, boom. I had a girlfriend like that. When I didn't beat her she used to tell me I ain't love her no more cause I don't hit her.
"But seriously I had one like that. I had one. She used to tell me..."
At that moment, House Speaker Dr Kendal Major interjected stating: "We know that you are joking with that."
However, Mr Miller continued: "No I serious with that. I tell her I get tired man. My hands hurting a little bit, give me a break.
"I am telling you the truth. One thing I don't do is lie."
On Wednesday, however, he insisted that he had "never abused a woman in my entire life" and that his comments were spoken in "jest".
The Crisis Centre statement called for a greater response to domestic violence as a community. It continued: "As a community, we need to be sensitized and educated about the dynamics of domestic abuse. It is our collective responsibility.
"Members of Parliament should have been unanimous in their rebuke. We need to empower women to reclaim their sense of personal power rather than blaming and ridiculing them. As a community we need to stand together on this matter.
"The actions of the members of parliament who found the comments humorous contradicts the government's message that domestic violence is taken seriously in our country, we need a public commitment that they will lead by example and address the serious matter of domestic violence in a systematic and expeditious manner. This is of paramount importance."
Yesterday, Minister of Social Services Melanie Griffin maintained that the government did not condone violence against women in any form.
"Hundreds of women in The Bahamas," said Mrs Griffin, "face situations that cause serious distress, pain and frustrations to them and their children and households, generally. Since returning to office in May 2012, I have actively participated in many international and local meetings and conferences addressing the issue of violence against women and girls.
"Through the Bureau of Women's Affairs, the Gender-Based Violence Task Force and partnerships with various governmental and non-governmental organizations, my Ministry continues to highlight this serious scourge in our communities providing public education and services. By mid-June, through the work of the Gender-based Violence Task Force and the results of a study being funded by UNWomen, we hope to have a strategic plan to strengthen the coordination of the various agencies that provide services to both victims and perpetrators and eventually to eradicate this ugly menace from our shores."
Mrs Griffin added: "We must not be distracted and we must continue to work together to make our families strong, safe and free from all forms of violence."