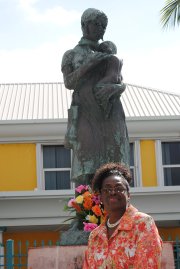 By Felicity Ingraham
The statue of the "Bahamian Black Madonna and Child", as it was dubbed by late Parliamentarian Oscar Johnson Sr, was honoured last Friday by a group of Bahamian women and the man who organised the event to commemorate International Women's Day 2014.
The often-overlooked statue sits at the eastern end of Prince George Wharf and is seen by tourists entering the Bahamas by cruise ship, but not by the majority of Bahamians.

However, when it was commissioned by Mr Johnson (Cat Island MP from 1968 - 1976) and sponsored by a Syntec Petroleum Company executive during the time of Independence, Bahamians would have traversed the area for business regularly. The statue depicts a barefoot, beautiful Bahamian woman with two thick, long plaits, holding a naked baby. She wears a skirt and blouse and a money pouch is slung over her shoulder.
For International Women's Day Minister of Youth, Sports and Culture Dr Daniel Johnson brought together several Bahamian women to commemorate the statue including Minister of Social Services and Community Development Melanie Griffin; his sisters, former Speaker of the House of Assembly Italia Johnson, former Senator and Consul General Gladys Johnson-Sands, and Minister Cora Johnson-Cooper; former Minister of State for Social Development Loretta Butler-Turner; Senator Hope Strachan; national archivist and historian Dr Gail Saunders; cultural icon Arlene Nash-Ferguson; Deputy Permanent Secretary Phedra Rahming, Bahamian hero Ruth Dobouze, and his daughter, Danielle Pindling-Johnson among others.
"This is a day when the world honours women and I wanted to demonstrate to the Bahamas that we have national heroines, we have community heroines, we have unsung heroines. We are honouring the past and preserving their story. We must preserve this story of the Black Madonna and Child. It was erected by my father to honour the Bahamian woman and today was a good day to recognise how far we have come. I brought my daughter to expose her to the story of the Black Madonna and Child and how we crossed over on dry land but for the grace of God," Dr Johnson said.
Minister Griffin expressed her pleasure in participating in the event.
"Women really represent so much in terms of families and the development of a country," she said. "We want to inspire our young women, so I call for all women in positions of leadership to continue to be role models and also reach out to our young women."
Former Speaker of the House of Assembly Italia Johnson said: "This is significant to me as (this statue) celebrates and concretises the role that Bahamian women have performed in times of austerity and in times of national development. On this International Women's Day I would like for the Bahamian women to become more conscious, remain steadfast and carry out their God-given mandate.
"I am particularly honoured to be here as a Bahamian woman to recognise the commissioning of this statue in the 1970s. It came as a result of some struggle, but it is here. It is a worthy tribute to the Afro-Bahamian woman. Bahamian women have been the bedrock of our society, not only Afro-Bahamian women, but also women in general have made contributions to families and the development of our nation. I would admonish women to have a look at this statue and commemorate it with their families."
Dr Gail Saunders said she considers the statue a "very fine tribute to Bahamian women".

"It is a very beautifully carved statue, it shows a strong woman and also a child and that is symbolic itself," Dr Saunders said. "We must honour our women and empower them, and the child signifies that it will go on and to me that is very important."
Danielle Pindling-Johnson, a teenager whose family line crosses that of the late Sir Lynden Oscar Pindling and the late Oscar Johnson, said: "I think International Women's Day is a very important day, especially for the youth of the Bahamas. Many young people may not have been as exposed as our elders were to important times in our history. It was an educational experience for me today, being around so many women who affected my country as much as they have, so it was very fulfilling for me."
Unsung Bahamian heroine Ruth Dobouze was also recognised by the Ministry of Social Services and Community Development.
She assisted Minister Griffin in laying the wreath to commemorate the Bahamian woman. Known affectionately as "Mama" or "Mama Ruth", this mother of 11 is a matriarch of the Fort Fincastle community. For decades, she has been serving hot, free meals to needy people in the community once each week. Over the years she has fed thousands and her reach extends outside of the Fort Fincastle community as well. She encourages Bahamian women to "be more kind" to their children and to stop going out and leaving them at home, or letting them roam the streets or go out with their friends without knowing their destination. Spending more time with children, said Ms Dobouze, will help steer them in the right direction.