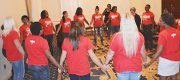 By ALESHA CADET
Tribune Features Reporter
acadet@tribunemedia.net
FOR 90 minutes, audience members of this year's Bahamas Artist Movement (BAM) presentation of 'The Vagina Monologues' are promised a complete and unforgettable thrill.
The event officially opens at the British Colonial Hilton this Saturday at 8pm, with an encore presentation to follow on Sunday at 3pm.
'The Vagina Monologues' is an episodic play written by Eve Ensler which ran at the Off-Broadway Westside Theatre after a limited run at the HERE Arts Centre in New York in 1996 and has since enjoyed immense global success as both a theatre piece and a movement.
Hailed by the New York Times as "funny and poignant" and by the Daily News as "intelligent and courageous," 'The Vagina Monologues' dive into "the mystery, humour, pain, power, wisdom, outrage and excitement buried in a woman's experience."
Last year, was the first time in the history of the movement that the Bahamas participated.
Artistic director, coordinator and founder of BAM, Rowena Poitier, said she was very pleased in regards to the number of people who came out to support the show last year.
The show is made up of a varying number of monologues read by a varying number of women. Each of the monologues deals with an aspect of the feminine experience. A recurring theme throughout the piece is the vagina as a tool of female empowerment and the ultimate embodiment of individuality.
A number of women and men (V-Men and V-Women) have volunteered their time and talents to make this event happen.
"V-Women are obviously strong advocates of empowering women, justice and ending violence against women," said Rowena.
"V-Men are also advocates of justice. These are men who love women and they stand in the gap for the voiceless and they are protectors of women."
While there are some similarities to last year's show, Rowena said there are many differences, especially in terms of the cast.
"We have a few of the same cast members taking on different parts and we have some new monologues in the mix as well," she said. "Just by having new cast members doing the monologues makes it different because everyone brings their own interpretation to the roles. We have some really strong actors and actresses and they are so hilarious and brilliant."
The beauty of the show, Rowena said, is tying in the comedic and serious aspects of the monologues; highlighting life all around the world.
"With this we are focusing on women and our experiences, and we women are complex. We are interesting and never just one thing. We can be happy, sad, hysterical and all of these things at the same time and that is what this is. That is how we tie everything together by just being present in each moment and truthfully expressing the power of an ignited voice," she said.
Rowena said she hopes to see the show continue on an annual basis, as it sparks conversation amongst audience members and sheds light on not only what is happening in the Bahamas, but globally as well.
"We need to have these conversations and it needs to happen every year because this is serious and it is real. We want people to focus on what's going on; to laugh, to cry and just enjoy every moment of this wonderful theatre. This is not about women bashing men or just speaking out against men. The only thing it has to do with men is actually encouraging them to be leaders and to be supportive and uplift women. I want to encourage men to come out to be V-Men and be examples for our young people," said Rowena.
Leading up to the show, there will also be larger pre-event this year, to be held at the National Art Gallery (NAGB) this Friday at 6pm.
Inspiring artwork is expected to be on display for a silent auction to raise funds in support of 'The Vagina Monologues 2014'.
"The pre-event is called 'Blush' and it being hosted for BAM so that we can continue doing work like this. As much as we want to advocate for various charities and human rights issues, we also want to promote artists in every form. This is an opportunity for young artists to express themselves and put their work out there on display," said Rowena.
Tickets for 'The Vagina Monologues' are available at the New Providence Community Centre (NPCC) on Blake Road, Eyecon Bahamas downtown, and at Airbrush Junkies at the Mall at Marathon for $25 in advance. Tickets are $35 at the door. Proceeds will benefit the Bahamas Crisis Centre.