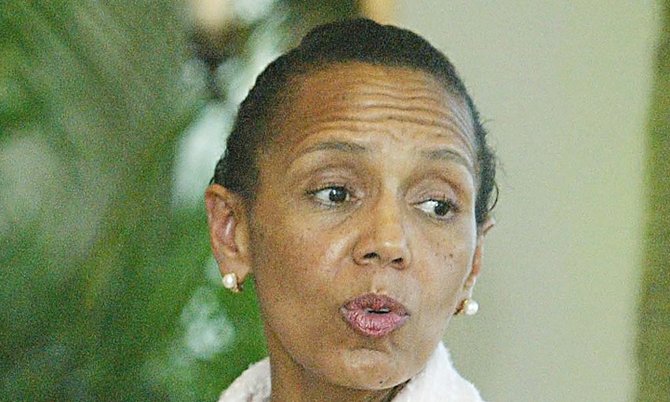 By AVA TURNQUEST
Tribune Staff Reporter
aturnquest@tribunemedia.net
ATTORNEY General Allyson Maynard-Gibson yesterday expressed her full confidence in the discretion of the Chief Justice and Chief Magistrate amid concerns over the removal of stenographers from the Magistrate's Court system.
Mrs Maynard-Gibson declined to comment on pending legal action by the Criminal Bar Association over the issue. However, she noted that there has been no "backlash from the victims of crime who wish to have their matters heard expeditiously."
She added that digital recording will be employed by September.
Opposition Leader Dr Hubert Minnis criticised the government for the "premature" removal of stenographers from the Magistrate's Court system.
Dr Minnis said that the absence of court reporters presented serious challenges to the appeals process as the accused must rely on the accuracy of handwritten notes, which, he added, were subject to the interpretation of the magistrate.
"The magistrate now has to write everything down by hand," he said adding that "on average a magistrate can see 25 to 30 cases per day. As the number of cases increases, the handwriting deteriorates. The magistrate might not even be able to interpret his own handwriting. If the magistrate misquotes or writes something different, that's not fair to the individual being charged. 
"The majority of the appeal cases come out of the magistrate's court so when that goes to the appeal court," said Dr Minnis, "if the magistrate wrote the wrong thing then it's unfair to the individual being charged and most of those individuals are over-the-hill residents. 
"You truly don't believe in Bahamians when you're introducing an archaic, retrogressive system to them," he added.
Lawyers of the Criminal Bar Association announced their intention to take legal action against Attorney General Maynard-Gibson for removing the stenographers from the Magistrate's Court on Monday.
The group said that while judges enjoy tenure, magistrates are subject to administrative decisions and unable to voice their opinion on the matter for fear of victimization.
This action comes nearly a month after lawyers called a press conference to protest the removal of court reporters, leaving it to magistrates to take handwritten notes until digital recording comes on stream later this year.
Yesterday, Mrs Maynard-Gibson added: "My team and I are determined to do everything that is within our power to ensure that justice is seen to be done in the Bahamas. The system that is broken, the result of inordinate delays, adjournments, et cetera, that are impacting both accused and victims, is fixed.  We are expending all of our energies fixing a system that has been broken, we are determined on behalf on the Bahamian people that the system can be fixed."