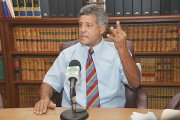 By KHRISNA VIRGIL
Tribune Staff Reporter
kvirgil@tribunemedia.net
A HUMAN rights group has renewed calls for the government to amend the Bahamas Constitution therefore making it illegal to discriminate against a person based on sexual orientation.
Fred Smith, president of the Grand Bahama Human Rights Association, said as the Bahamas boasts of being host to scores of people from different ethnicities, it is fundamental that law makers protect the rights and freedoms of the lesbian, gay, bisexual and transgender (LGBT) community.
He was lending support to Foreign Affairs Minister Fred Mitchell who is at odds with Bahamas Faith Ministries President Myles Munroe over a difference of opinions for those who choose an alternative lifestyle.
"The Association calls on the government," Mr Smith said, "to end all forms of discrimination. We suggest that the government passes a Human Rights Act that would make it illegal to discriminate on grounds of sexual orientation as well as discrimination on all of the other grounds in the Constitution, including ethnic origin, political position and race among other things.
"We also recommend in the forthcoming proposal an amendment to the Constitution that the rights be protected on the grounds of sexual orientation.
"Many modern nations throughout the world are embedding rights based on sexual orientation. We are a multi-ethnic and national society. Here in the Bahamas we welcome millions of tourists each year. It is appropriate as a Christian nation beholden to our constitution the protection of fundamental rights and freedoms. We must end all forms of discrimination," he said.
Mr Smith's comments come amid a heated discussion of the LGBT community, which again took flight following Mr Mitchell's comments while in Trinidad and Tobago. At the time, Mr Mitchell said his career as a politician has suffered greatly because of his support of the LGBT community.
Not long after, Dr Munroe urged Prime Minister Perry Christie to terminate Mr Mitchell because his views do not represent the position of Bahamians.
The discussion has taken a new direction which now questions whether sexual preference should play a role in who is elected to parliament.
However, Mr Mitchell told reporters last week that such a matter should be regarded as irrelevant.