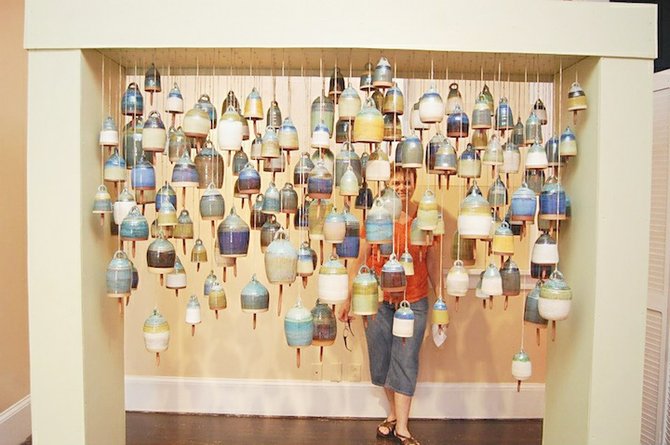 Tickets are now available for Nassau's most exciting event in contemporary visual art, the Transforming Spaces art tour.
Taking place April 3 – 6, it will include artwork by almost 100 artists in seven gallery spaces, all responding to the theme of "Water".
This year's tour echoes the first thematic tour in 2012, which called for artists to respond to the theme of "Fibre" by using indigenous materials in exciting ways in order to collapse traditional, folk and contemporary art practices.
This time around, artists were invited to propose pieces that respond to the theme "Water", providing a rich platform to explore the life-giving substance thematically or through their artistic process itself.
This theme-driven format, said Transforming Spaces committee member Jay Koment, allows for a significant number of artists to present their work within a streamlined narrative to the tour patrons, and also helps the tour to make a name for itself within the wider Caribbean region.
"What happened when we did 'Fibre' is that we received some proposals from artists in from other islands like Trinidad and Jamaica, which led to a growing interest in the tour, especially through promotion at ARC Magazine," said Mr Koment, referring to the online hub that promotes and examines Caribbean art.
He said the 2014 theme of "Water" saw a huge leap in proposals from regional and diasporic artists who are excited to be part of the conversation surrounding contemporary art.
"The tour has been celebrated by locals for years, but now artists around the world are paying attention to what we have to offer, and they like what they see," Mr Koment said. "We are really excited to form connections and collaborations with artists in the wider region, which will help us to grow our tour into a real creative industry highlight."
The 100 or so accepted proposals from Bahamian and other Caribbean artists alike will be presented in seven participating gallery spaces by guest curators.
Michael Edwards will construct an outdoor pavilion to display work at the Antiquities, Monuments and Museums Corporation's Collin's House; Kim Smith will arrange a selection of realist pieces on the balcony at the National Art Gallery of The Bahamas; Danielle (Dede) Brown will offer interpretations of the theme at the D'Aguilar Art Foundation; Dylan Rapillard will present several larger installation pieces at the Popopstudios International Centre for the Visual Arts; Heino Schmid will offer explorations into the theme at Doongalik Studios; Nicole Smythe-Johnson, hailing from Jamaica, will transform the Antonius Roberts Studio and Gallery at Hillside House, and Vincentian Holly Bynoe, editor-in-chief of ARC Magazine, will unveil installations at the Liquid Courage Gallery and warehouse space.
Since the tickets sell out every year, in order to meet new demand, the Transforming Spaces committee has expanded their programming by offering an additional tour on Saturday, April 5, making for a total of three tours of this year's participating galleries.
In addition, this year's tour will include several satellite events free and open to the public, such as a film night on Thursday, April 3, a lecture series on Friday April 4, and closing night lounge on Sunday April 6, to promote critical discussion about Caribbean art practices.
Transforming Spaces also partnered with the Domestic Tourist and My Destination Bahamas to offer two travel packages especially for patrons from abroad who may wish to, in addition to enjoying the Transforming Spaces events, explore the rich cultural and historical attractions of other islands such as Andros, Eleuthera and Harbour Island.
Tickets are available for $35 at the Islandz Store at the National Art Gallery of the Bahamas on West Hill Street, A Place for Art in the yellow building at Doongalik Studios, #20 Village Road, or at Liquid Courage, #19 Patton Street in Palmdale.
For more about Transforming Spaces or to view this year's schedule, tour stops and travel packages, check out their new website at www.bahamastransformingspaces.com and on Facebook, Twitter and Instagram for sneak peeks of the artists' work and exclusive behind-the-scenes preparation as the events draw near.