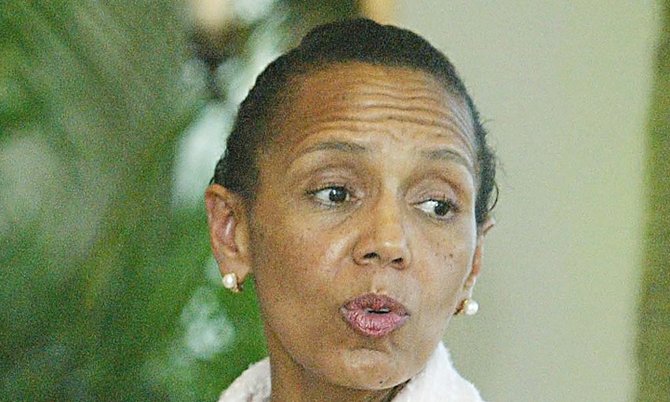 By LAMECH JOHNSON
Tribune Staff Reporter
ljohnson@tribuemedia.net
A DATE has been set for a group of attorneys taking legal action against Attorney General Allyson Maynard-Gibson for the removal of stenographers from the Magistrate's Court.
The matter is scheduled to be heard before Senior Justice Jon Isaacs on April 19.
Lawyers of the Criminal Bar Association announced their intention to take legal action against the AG on Monday, sighting that the move infringes on Article 20(1) of the Bahamian Constitution.
According to Article 20(1), "if any person is charged with a criminal offence, then unless the charge is withdrawn, the case shall be afforded a fair hearing within a reasonable time by an independent and impartial court established by law".
Article 28 notes that "if any person alleges that any of the provisions of Articles 16 to 27 (inclusive) of this Constitution has been, is being, or is likely to be contravened in relation to him then, without prejudice to any other action with respect to the same matter which is lawfully available, that person may apply to the Supreme Court for redress."
The group further said that while judges enjoy tenure, magistrates are subject to administrative decisions and unable to voice their opinion on the matter for fear of victimisation.
This action comes nearly a month after lawyers called a press conference to protest the removal of court reporters, leaving it to magistrates to take handwritten notes until digital recording comes on stream later this year.
While declining to comment on pending legal action by the Criminal Bar Association over the issue, Mrs Maynard-Gibson, said: "My team and I are determined to do everything that is within our power to ensure that justice is seen to be done in the Bahamas."
"The system that is broken, the result of inordinate delays, adjournments, et cetera, that are impacting both accused and victims, is fixed.
"We are expending all of our energies fixing a system that has been broken, we are determined on behalf of the Bahamian people that the system can be fixed." she added.