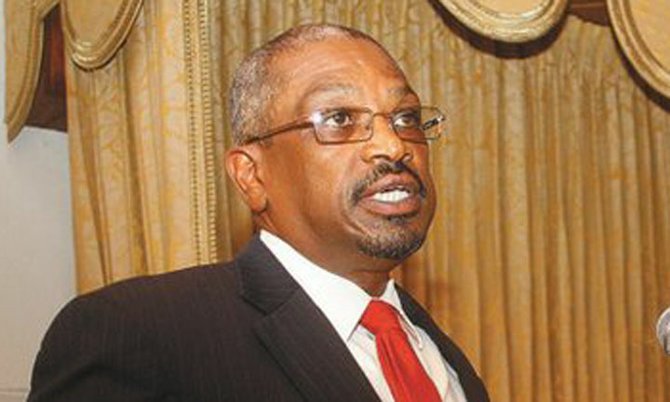 By SANCHESKA BROWN
Tribune Staff Reporter
sbrown@tribunemedia.net
OPPOSITION Leader Dr Hubert Minnis said yesterday it was "inappropriate" and an "abuse of power" for Prime Minister Perry Christie to intervene on behalf of VAT co-ordinator Ishmael Lightbourne to stop the bank from repossessing his home.
Dr Minnis said the intervention could also be interpreted by some as "bribery" and "undue influence".
"The Prime Minister calling a bank manager is not demonstrating proper code of conduct, it is misuse of power and an inappropriate action that can be interpreted as bribery and undue influence. Think about it like this," he said.
"From time to time banks must work along with government agencies and also require work permits and immigration statuses. So if they don't follow through with the Prime Minister's requests they may feel as though it may jeopardize their immigration permits and other requests they may have with other agencies. So, the Prime Minister needs to learn how to separate his role as Prime Minister from his personal life. He is the Prime Minister and needs to act accordingly.
"He should be embarrassed and all of the other PLP's were in the House of Assembly banging on the desk as if it were a good thing. That is an abuse of power even as Opposition that would not be accepted. He is interfering with the private sector and that is not right."
Dr Minnis said there needs to be a proper code of conduct for the country's leaders before the Bahamas develops a "Banana Republic" attitude.
Last week, Mr Christie revealed that as Prime Minister he intervened on behalf of Mr Lightbourne to stop the bank from repossessing his home, adding that the tax consultant had once held high-level positions in the public and private sector.
Speaking out on the controversy in his closing remarks on the mid-year budget, Mr Christie said his only regret was that he "significantly" underpaid Mr Lightbourne when compared to foreign consultants.
He said: "The difference between them and Ishmael is that someone has revealed his shadow and not theirs. I will never compromise my belief in the redemptive power of a second chance."
"While Mr Lightbourne should clearly pay his property taxes, and is under legal obligation to do so, it is obvious that the call for the Government to dismiss Mr Lightbourne is a clear attempt to discredit and shoot the messenger, because there are those special interests who do not like the VAT message he is delivering on behalf of the Government."
Mr Christie said Mr Lightbourne has made arrangements with the tax office to settle his liabilities within a reasonable time frame.