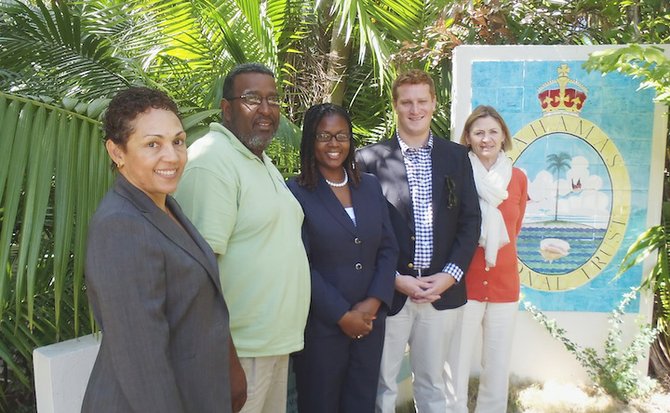 JACOB James, the managing director of the Waitt Foundation, recently visited the Bahamas to meet with The Nature Conservancy and other project partners who have been implementing the project "Expanding Marine Protection across the Bahamas," which is funded by the Waitt Foundation.
During his visit, Mr James made a courtesy call on Prime Minister Perry Christie. He thanked the Prime Minister for the Government of the Bahamas' commitment to ocean conservation. He also congratulated Mr Christie on past efforts to build the national protected area system of the Bahamas and encouraged the Bahamas to continue to lead the region in marine conservation by a significant expansion in marine protected areas.
Since January 2012, the Nature Conservancy, in conjunction with partners, has been implementing the project "Expanding Marine Protection across the Bahamas" with funding support from the Waitt Foundation.
The Waitt Project supports a larger national and regional effort known as the Caribbean Challenge Initiative (CCI). The Governments of the Bahamas and Grenada launched the CCI in 2008 at the United Nations Convention on Biodiversity 9th Conference of the Parties meeting in Bonn, Germany. Today, the CCI includes eight other Caribbean Governments and aims to protect 20 per cent of the Caribbean's nearshore marine and coastal habitat by the year 2020. The CCI will transform the region's protected area systems and triple the number of protected marine and coastal habitats. The Waitt project has contributed to significant advancements in expansion of the national protected area system of the Bahamas. Through the project, a Rapid Ecological Assessment (REA) of the Southeastern Bahamas has been completed.
This REA sought to identify priority sites for conservation around the islands of Acklins, Crooked Island, Long Cay, Mayaguana, Samana Cay and Plana Cays. The Waitt Project has also assisted the Bahamas National Trust with completion of REAs for two proposed marine protected areas (MPAs) in Abaco and one proposed MPA in Grand Bahama.
An economic valuation of the resources within proposed MPAs in Abaco has also been completed through Waitt Foundation funding. Additionally, through the Waitt Project, partners have developed and submitted a priority list of areas proposed MPAs to the Government for official declaration.