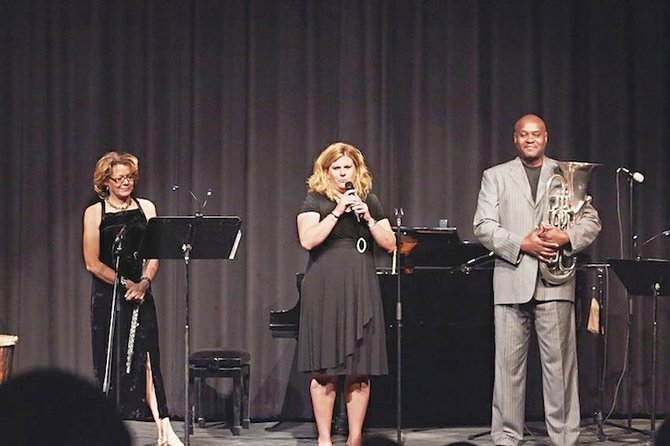 The Grand Bahama Performing Arts Society (GBPAS) last weekend hosted "C-Force, An Evening of Musical Fusion" at the Regency Theatre in Freeport. Also making an appearance was beloved Bahamian writer, poet and filmmaker Marion Bethel, who read some of her poetry, incorporating GBPAS scholarship recipient Chavez Parker on percussion into her performance.
Ms Bethel has been a guest writer at many international events over the past 20 years. She was awarded a James Michener Fellowship and the Casa de las Americas Prize for "Guanahani, My Love". Her documentary film, "Womanish Ways" won Best Documentary at Urban Suburban Film Festival and second place at Fort Lauderdale International Film Festival.
Headlining was C-Force, a chamber ensemble that offers a unique and intriguing approach to the traditional. The group is made up of Christy Lee on the piano, Christine Gangelhoff on the flute and Christian Justilien on the euphonium, all of whom are faculty members at the College of the Bahamas.
Since its formation in 2008, C-Force has been featured in concert throughout the islands of the Bahamas. Most recently, the group has been promoting the art music of the Caribbean with their performances in Trinidad and Tobago, Dominican Republic, Jamaica, the US Virgin Islands and the United States.
The members of C-Force will be performed two concerts for students on Grand Bahama at the Bishop Michael Eldon Auditorium, one for primary school-aged children and one for middle/high school-aged children.
GBPAS said its mission is to foster growth and appreciation of the performing arts in Grand Bahama through access to a diversity of professional artists from around the world.
All proceeds raised from performances, membership and sponsorship are used to benefit students of the performing arts on Grand Bahama. In its five-year history, GBPAS has donated more than $57,000 in scholarships and funding for performing arts students. This includes over $20,000 in college scholarships, more than $25,000 for students to attend performing arts summer programmes abroad, and over $12,000 in local scholarships and music and arts programme funding.