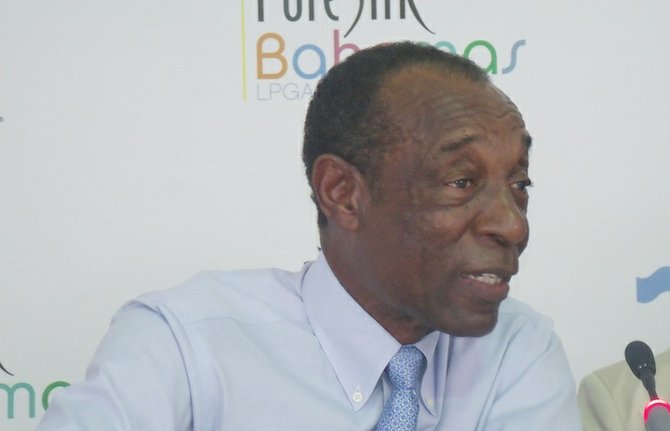 By AVA TURNQUEST
Tribune Staff Reporter
aturnquest@tribunemedia.net
FML Group of Companies CEO Craig Flowers, with other "casino operators", are in consultation with the government to craft regulations to govern the webshop industry, lawyer Alfred Sears said yesterday.
Mr Sears also confirmed that Mr Flowers has filed an appeal to overturn his 2011 conviction for breaches to the Lotteries and Gaming Act.
A date had not yet been set for a hearing, according to Mr Sears, who told the Bermuda Sun that he expected the matter to be heard within the next two to three months.
In an interview with The Tribune yesterday, Mr Sears said he could not confirm when the application had been filed. 
In 2011, Magistrate Derence Rolle-Davis convicted Mr Flowers of permitting his premises to be used for a lottery; and promoting, organising and conducting a lottery.
Mr Flowers was given the option of paying a total of $10,000 in fines or spending two years in prison.
Magistrate Rolle-Davis also ordered the confiscation of $834,629.32 that police seized during a 2009 raid of an FML web shop, as the proceeds of illegal gambling.
Kingsley Munroe, the web shop's general manager, was convicted of being found on the premises of a lottery,
permitting a premises to be used for a lottery and promoting a lottery.
Mr Munroe was fined $5,000 on each count, and faced two years in prison if the fines were not paid.
Mr Smith made the disclosure that Mr Flowers was in consultation with the government over regulating web shops during an interview with the Bermuda Sun yesterday.
According to the Bermuda Sun, Mr Flowers established a joint-venture company with Bermuda Opposition Leader Mark Bean last year.
The Bermuda Registrar of Companies confirmed that the application was filed to incorporate local company Wellington (Bermuda) Ltd with limited liability. 
The company is listed to have 5,000 shares, with Mr Bean holding 3,000 shares, and Mr Flowers 2,000.
Cabinet ministers discussed Tourism Minister Obie Wilchcombe's proposal to legalise web shop gaming earlier this week.
Prime Minister Perry Christie told The Tribune at that time that Mr Wilchcombe's proposal did not include any consideration to remove discrimination from the Gaming Bill to allow Bahamians to gamble in casinos. However, he hinted, "everything is up for consideration".
After more than a year of speculation following the "No Vote" in the 2013 Gaming Referendum, the government turnaround on the issue has been heavily criticized by the religious community and the Opposition.
In wrapping up his mid-year budget contribution, Mr Wilchcombe said while he respects the church's position and the results of the referendum, there comes a time when the government must make "the tough decisions and govern".
Mr Christie has since stated his support for the regularisation of webshops, saying he had to go against his word in view of the fiscal situation, and risks associated with the current underground economy.
According to the Bermuda Sun, the Bermuda Government has also come under heavy criticism for its decision not to proceed with its Gaming Referendum Act, and instead bring gaming to parliament in the form of legislation.
In December, Bermuda Premier Craig Cannonier acknowledged that the move broke his party's campaign pledge. However, he underscored the critical need to stimulate job growth.
Presently, casino gaming is illegal in Bermuda, but allowed on cruise ships in port.
Last night, Mr Bean's wife, attorney Simone Smith-Bean told the Bermuda Sun that "the company was incorporated for Mr. Flowers to expand his international ventures to Bermuda if he chose to".
Mrs Smith-Bean said the venture was not a move to bring Mr Flowers' web shops to Bermuda, adding that Mr. Flowers had no role in the management or financing of Mr. Bean's betting shop, Paradise Games.