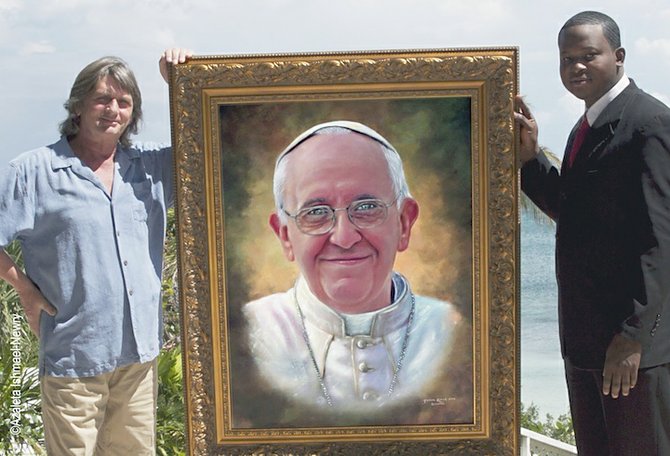 Internationally acclaimed musician and composer Mike Oldfield of Tubular Bells fame met with Jamaal Rolle, the Celebrity Artist and Tribune cartoonist, who has painted Pope Francis for his upcoming visit to the Vatican. 
While admiring the painting, Mr Oldfield remarked that it was absolutely splendid and described Mr Rolle as a very gifted artist, with a responsibility to share that gift with others and to make an impact. 
Future collaborations between the Celebrity Artist and the English musician to develop the talents of other young Bahamians who are gifted but who do not have the necessary resources or support are on the drawing board.
"There are so many kids who have a gift and never get to nurture it," said Mr Oldfield, who made a financial contribution to assist Mr Rolle with his trip to Rome.
Mr Rolle, with his publicist Azaleta Ishmael-Newry, are scheduled to present the life-like oil painting to Pope Francis at the Vatican this Wednesday.