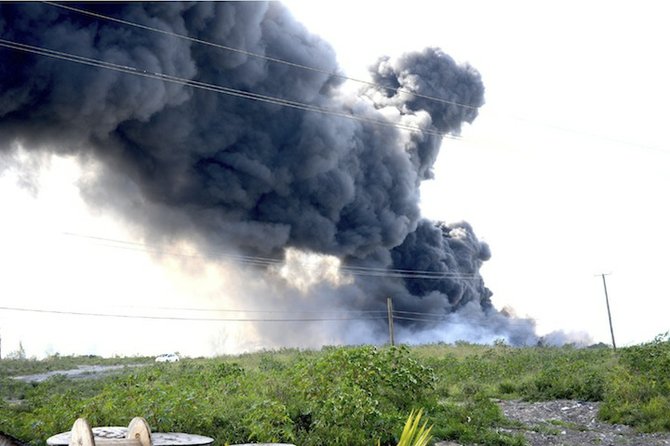 SANCHESKA BROWN
Tribune Staff Reporter
sbrown@tribunemedia.net
FIREFIGHTERS are investigating whether "products" are being added to the fires at the New Providence Landfill after smoke began billowing once again from the waste facility.
Fire Chief Walter Evans said the reemergence of the thick, black, toxic smoke at the dump led investigators to believe that someone might be adding trash to the two existing fires.
"Both fires at the dump were smouldering as well as the fire at the Sludge Facility of the Water and Sewerage Corporation, but we got a call that smoke was once again coming from that area," he said.
"We cannot say for sure at this point but we are investigating whether or not products are being added. It is something we are definitely looking into. The smoke had subsided and now it is back, but we are sure that we will have the all the fires out in a few days."
Firefighters have been battling three aggressive fires at the New Providence Land fill for almost a month.
Two of the fires are in separate areas at the landfill and the third fire began at the Sludge Facility of the water and Sewerage Corporation.
Last week, fumes from the fires forced the closure of two schools – St Johns College and H O Nash Junior High School.
The week before, officials from both Aquinas College at Gladstone Road and the Meridian School at Unicorn Village, just off JFK Drive, confirmed that the air quality was too poor to allow students to continue attending classes.
Calls placed to the Department of Environmental Health Services for an update on the matter were not returned up to press time.
Last week, deputy director Thomasina Wilson said that the fire and thick smoke in several areas was no reason for residents to evacuate their homes.
Ms Wilson said people needed only to keep their windows closed, adding that officials saw no need for tests to be carried out to determine the toxicity of the air.