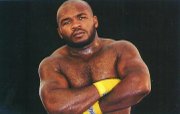 By RENALDO DORSETT
Sports Reporter
rdorsett@tribunemedia.net
FOLLOWING the disappointment of another cancelled fight, Sherman "Tank" Williams will step into the ring for the first time this year as he challenges the heavyweight champion of New Zealand.
Williams (36-13-2, 19 KOs) is scheduled to face the unbeaten prospect Joseph Parker (7-0, 6 KOs) on April 26 at the Koenig Pilsener Arena in Oberhausen, Germany.
The fight will take place on the undercard of the WBA/IBF/WBO/IBO heavyweight champion Wladimir Klitschko's world title defence against Alex Leapai.
Williams, 41, plans to derail his 22-year-old opponent who he said is being "fast-tracked" to a title shot.
"I know very little about Parker," he said. "He has just a few fights and won a few by knockout. I know they are 'fast-tracking' him and they have him labelled as one of the young up and coming stars in the region. Frankly, it would be a waste of my time to look up and study anything in depth on this guy who has less than 10 professional fights."
With over 50 fights and just one loss via knockout, Williams said his experience will be the determining factor in the 10-round bout. "From the little we have seen though, he seems to come out with the amateur mentality, to go all out in the first two or three rounds. He doesn't seem to have the best defence and he throws a lot of looping shots so for the first two rounds I am going to pick off his punches and counter punch. Over the next few weeks I will work on staying close and working the body and perfecting the overhand right," he said.
"I am going to overwhelm him with pressure, punches and experience. I don't see any reason I won't have my way with Parker. I have already talked to my manager about taking care of this guy pretty easily and moving forward. I still have a lot of good fights in me, I'm still fighting at a world class level and I'm optimistic about what this fight is going to bring."
Williams, hampered by back injuries recently and who has lost two of his last three fights, said he prepares and remains ready due to the unstable nature of the professional boxing game at times.
"I was training in England ready to go against Tyson Fury on February 14, but he pulled out of the fight two weeks before. I stayed in the gym, and just a few days ago got this deal to fight Parker. In terms of promotions and publicity, this turned out to be a better deal," he said.
"I was disappointed in losing the Fury fight because that would have led to the Commonwealth title. When I was offered this fight though, I never hesitated. I'm always eager to get in there and fight."
Williams is currently in New Zealand doing pre fight promotions, but will travel to Germany for a month to train with Klitschko as his sparring partner.
"I always had a working relationship with the Klitschkos and this will be my eighth time in camp with them. For now the way it is I'll just continue to take advantage," he said. It's a great thing to work with them. I always enjoy taking advantage of the atmosphere and professionalism. Working with them what stands out is the focus, stability and stickability. Just staying the course, we have to deal with the mental side of the boxing and hanging on."
Even at age 41, Williams remains vigilant and will continue to work toward a major title shot.
"It's like going through a maze. A lot of times it's not about being number one or being the best, it's about being chosen. That's the way boxing has been going. The guys at the top get to cherry pick their fights and these guys get away with doing things. There is no unified commission that sanctions fighters to fight," he said. "I would still love the opportunity to fight Wladimir, the politics of boxing just lends itself to this. You just have to stay the course."