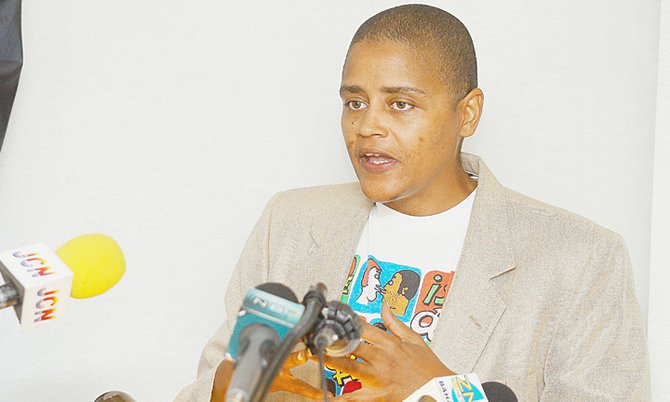 By AVA TURNQUEST
Tribune Staff Reporter
aturnquest@tribunemedia.net
ACTIVISTS called for the government to support its position on Lesbian, Gay, Bisexual and Transgender rights amid speculation over whether hardships faced by members of the community warrant asylum applications.
Gaps between government policy and actual procedures should be addressed through training for public servants, and an education campaign for the wider public, according to Erin Greene, a human rights activist.
Ms Greene confirmed that she received several requests to provide supporting documentation for applicants seeking to file asylum claims in Canada. However, she noted that most requests have come from persons who have never sought the help of a local association, or filed a police report over alleged abuse.
"What concerns me most of all," she said, "is that the vast majority of people making claims have never contacted the LGBT community.
"Most people feel so unsafe that they don't attempt to contact or request assistance from LGBT communities. This perhaps speaks to the perception of danger, helplessness, and hopelessness, it certainly speaks to their perception that the government is unwilling to protect them.
"As an activist,"said Ms Greene, "I cannot discourage anybody from taking the legal steps to create a life in a safer environment, but I do encourage all LGBT Bahamians and LGBT allies to engage their local organizations and to assist them, to work with them to create safer environments for LGBT Bahamians at home."
Ms Greene's comments follow reports in The Tribune that at least 16 Bahamians in the past three years have been granted asylum in Canada because of their fear of persecution in the Bahamas.
Sources could not reveal the terms under which the 16 individual claims were granted, but the Canadian government considers applications based on race, religion, political opinion, nationality, or membership in a social group, such as women or sexual orientation.
"My job," said Ms Greene, "is to create systems that work and facilitate people in and out of those systems. My personal view is that the vast majority of people, while they emotionally and psychologically feel that they qualify, I don't know if they qualify. Nobody should have to live constantly with the fear of violence, but the question is how does the perception measure up to the reality.
"How violence is generated, the formula is far more complex than the people who are claiming asylum think it is."
Ms Greene said: "One of the questions is, is the rate of violence larger than the rate of violence towards straight people? If you don't report an incident, and you don't indicate that you are queer and the attack was sparked by homo-aggression – even if I have these stories, they are just stories."
"There needs to be the creation of a mechanism to officially record these events," she said. "What I've found in many incidents is that individuals have not exhausted every system that there is here at home."
Transgender woman Tori Culmer told The Tribune it was unfair to expect LGBT members to reach out to such a fragmented support system.
While Ms Culmer encouraged members to seek support as it was critical to their livelihood, she argued that fearful individuals had every right to secure their own wellbeing.
Ms Culmer also expressed frustration over what she felt to be a stagnated community that focused more on night life and entertainment than the fight for equality.
However, Ms Greene said the issue is incredibly complex, and one that needs closer scrutiny.
"The LGBT community," said Ms Greene, "does suffer extreme amounts of violence. While we may not have the commensurate violence that we see in Jamaica, the psychological, social, and religious violence is commensurate to the level of physical violence that Jamaican LGBT persons experience.
"People are under tremendous psychological weight feeling excluded from communities and opportunities for healthy personal development. People feel like they cannot grow here, cannot express themselves freely here, and that they cannot live here."
Ms Green said: "I feel that the government can respond by engaging LGBT activist organizations and partnering in an awareness campaign that expresses to the citizenry at large what the government policy is on LGBT rights and provides opportunities for everyone to learn about and discuss these rights and the implications of these rights.
"We need," she added, "the space and resources for continued dialogue on the policy."
Ms Greene highlighted the lack of reporting mechanisms for LGBT members in her presentation to the 2013 Constitutional Commission, and also in a Commonwealth, UK based charity Kaleidescope Trust report on homophobia in the region.
The 2013 commission recommended that any expansion of the grounds of discrimination should be limited to "sex", pointing to the "deep" division over whether this term's inclusion would open the door for rights based on sexual preference.
In a Tribune interview last week, Ms Green said: "It's not the government's job to dictate to citizens how they should live with each other, that's the role of the constitution.
"The government's job is to make sure the constitution is adhered to, and to provide redress to persons whose rights have been violated."
She said: "The Public Hospitals Authority could partner with the LGBT community and civil society to create services specifically for LGBT people to provide sensitivity training for its staff so they can become aware of what their obligations are as professionals to the LGBT community."